How do aviation firms leverage Microsoft PowerApps?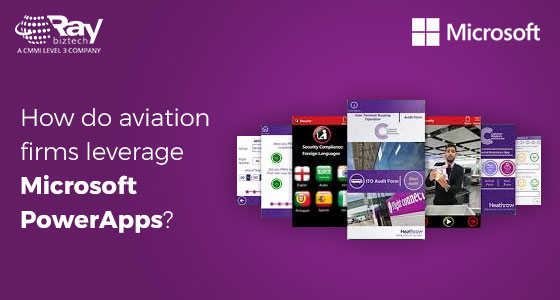 Microsoft PowerApps offers a co-development approach which makes the way for the participation of citizen users. This improves collaboration and helps create a series of business apps in conjunction with specific business needs. By virtue of app productivity, enterprises can take the subsequent toward deploying high-value Azure Cognitive Services and Kubernetes.
There are few outstanding benefits of PowerApps used with the Dynamics 365 platform. Complex enterprise capabilities and API Management along with Cognitive Services allow organizations to develop rapid solutions, increase profitability, and reach business goals efficiently. With newer business requirements and complex scenarios, PowerApps Component Framework (PCF) is used by the professional developers. Its command line interface offers a robust experience for developers with the TypeScript or JavaScript framework.
Continuous integration of PowerApps projects allows the building of high-quality apps with rapid ease, coupled with canvas app support and app flows. With an emphasis on security, Microsoft is improving its focus on blockchain, allowing a number of developers to adopt a low-code and straightforward approach to blockchain. This enables firms to focus on core business results while securing their application architecture and stack layers. Connectors to blockchain databases help simplify the task for novice coders. It has also built a rapport with the online community of PowerApps developers, the airline stated.
Let us explore how Microsoft has helped Virgin Atlantic, a well-known air carrier, leverage the PowerApps platform to enhance customer satisfaction and offer a seamless and omni-channel experience with custom-built mobile applications across hotel bookings, spa services, and flight reservations. This underlined the strong role of Microsoft Power Platform in streamlining operations in the aviation sector.
The enterprise eyed data integrity across its vast mobile workforce which was scattered across the air fleet, airports, and the office locations. This also aimed at fulfilling data needs seamlessly with real-time operational data. Virgin Atlantic rolled out tablets to most of its workforce as the first step in this direction.
The IT team at the airline – headed by Systems Development Manager - looked at ways to adopt required elements in Microsoft Office 365 across the business areas, with a reliable degree of integrity and seamlessness. As existing resources lacked the skillsets which would also mean a bigger timeline, the team started using Power Apps tool for rapid development of customized mobile applications.
The initiative proved successful and Virgin Atlantic could soon applications that extended the functionality of Office 365 and Dynamics 365 on to specific functional requirements. According to the Systems Development Manager, they could also rapidly develop apps in a couple of hours to reside with SharePoint.
Passionate developers in the team built their own customized applications that fulfilled the data needs of employees and displayed relevant information that is strategic across the business units. This was also coupled with an improved sense of responsibility and degree of self-motivation for typical developers – who knew the subject matter but could not code extensively.
Virgin Atlantic also managed to design an interface for the Clubhouse spa, whose services were extended to its privileged travelers. It helped the airline with passenger data and their fitness history with a 360-degree view into their past record by leveraging Dynmics365. The questionnaire process improved from a tedious to a swift one, allowing the airline to extend the desired package for holiday-goers.
As security and operational excellence are all the more important, the airline leveraged PowerApps to take care of safety norms and audit schedules for its engineers and technicians. A tablet-compatible app ensured the seamless exchange and transition of data, and eliminated the use of paper in the Engineering Compliance department; thereby allowing quick follow-up and corrective action on major as well as minor findings.
The airline said it had a number of strategic takeaways from leveraging Dynamics 365 and the Power Apps. From helping teams with instant data requirements to streamlining workflows and reducing overheads on third-party products, the PowerApps experience went a long way in extending an enjoyable experience to the end-customer.
About Raybiztech
Raybiztech is a leading global Information Technology (IT) Services and Solutions, a CMMI Level 3, ISO 27001:2013 Certified Company. We are a Member of NASSCOM, HYSEA, NJTC, and AIIA. Raybiztech offers comprehensive end-to-end IT Services for Business Application Development, Enterprise Solutions, Enterprise Collaboration Services, Testing and Quality Assurance Services, Cloud Computing and IT Infrastructure Management to organizations in the Banking & Finance, Insurance, Healthcare, Manufacturing, Retail, Media & Entertainment, Leisure & Travel, Telecom and Energy & Utilities verticals as well as Independent Software Vendors.