How AI and D365 Business Central combine for Business Success?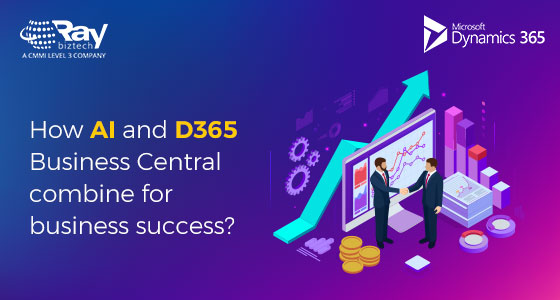 Microsoft unveiled its stable release of Dynamics Business Central Platform that integrated Sales function with AI and Machine Learning. The two applications are programmed to share insights by Predictive Opportunity Scoring.
Predictive models developed on Azure learning platform can now drive Dynamics 365 Business Central options, thereby allowing users to utilize built-in features for late payments or upcoming inventory forecasts. A combination of historical data as well as real-time information generated by the moment serves as the backbone for Business Central intelligent capabilities.
By powering Dynamics 365 with AI, marketers could generate more accurate social insights and take the customer engagement to the next level, and keep in touch with latest trends on customer needs, thereby making a positive impact on overall sales and generating profits.
The Business Central platform now offers versatile performance with Artificial Intelligence algorithms as network resources are powered to load elements and render application faster. The maintenance runs are carried on the cloud, thereby avoiding interruption of users at their workstations.
With out-of-the-box Dynamics 365 Business Central features, enterprises can develop a custom predictive model enabling businesses to leverage the power of Artificial Intelligence and Machine Language. In such a setup, historical data that resides in Dynamics 365 Business Central serves as the base while Power BI processes results from the data.
Using the above capabilities, a supply chain function can reach the right numbers and track any delays in delivery or fulfillment with precise predictions and metrics on movement. This allows the enterprise to optimize its inventory management and bring overall efficiency into the supply chain and logistics function.
With embracing of mixed reality in the form of HoloLens, the Dynamics Business Central will now enable employees working from different geographical locations to collaborate across projects and individual tasks, along with interaction using virtual reality.
The Business Central core app is being split into a system and an AI-enabled on-the-top application that sits on the base. It will make cloud transition even easier, along with the following benefits:
Enterprise indicator to maneuver among several databases and companies
Improved list sorting for instant data analysis powered by quick data entry
Optimized network assets that drive user interaction and on-demand pages
Faster and reliable performance in complex scenarios and business patterns
Trans-tool navigation, refreshed action bar, and real-time date-picking options
New interface elements with improved filters in Excel and rich document focus
Compliance with vital security protocols governing stable enterprise apps
Key functions such as display of work-date for specific scenarios on the screen
The 2019 Business Central release has the top app enriched with Visual Studio Code combined with Artificial Intelligence extensions, which is set to fulfill modern client requirements and drive enterprises' growth with automation scalability, along with significant streamlining of functions over the previous release.
About Raybiztech
Raybiztech is a leading global Information Technology (IT) Services and Solutions, a CMMI Level 3, ISO 27001:2013 Certified Company. We are a Member of NASSCOM, HYSEA, NJTC, and AIIA. Raybiztech offers comprehensive end-to-end IT Services for Business Application Development, Enterprise Solutions, Enterprise Collaboration Services, Testing and Quality Assurance Services, Cloud Computing and IT Infrastructure Management to organizations in the Banking & Finance, Insurance, Healthcare, Manufacturing, Retail, Media & Entertainment, Leisure & Travel, Telecom and Energy & Utilities verticals as well as Independent Software Vendors.