Microsoft Dynamics 365 addresses the top five challenges in the Retail Industry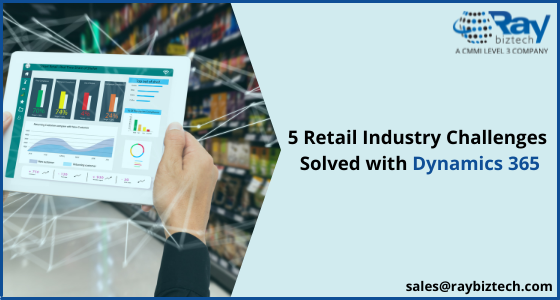 Retailers can use Dynamics 365 to manage merchandising and operations more effectively, provide a better customer experience, and drive continuous innovation.
Using Microsoft Dynamics 365 to Address Retail Industry
Every industry faces its own set of difficulties. However, because the retail industry is customer-facing, the issues it faces are even more difficult to solve. Due to the crucial issues of digital disruption, technological innovations, and ever-changing customer expectations, retailers are undergoing significant changes. These challenges also make it difficult for retailers to expand their business and plan for the future. For merchants facing these problems, responding to rapid change, and competing in the market, Microsoft Dynamics 365 is a necessary, solid solution. Retailers can use Dynamics 365 to manage merchandise and operations more effectively, provide an amazing customer experience, and drive continuous innovation.
5 Retail Industry Challenges Solved with Dynamics 365
1. Merchandising that is Consistent and Effective
Merchandising is a huge and important part of the retail business. The fluctuation of demand and customer behavior, on the other hand, is one of the most significant retail issues, making it difficult for retailers to maintain the essential clarity and consistency in merchandising.
2. Seamless Inventory Management
Effective inventory management is another important difficulty for retailers, as it necessitates good logistics and sales alignment. Inventory management is a complicated procedure since it incorporates a number of factors that influence precise product delivery and customer satisfaction.
Dynamics 365 helps retailers:
have a comprehensive understanding of their organization
improve customer relationships and exceed customer expectations
get a faster return on investment
have a centralized inventory management platform
Automate inventory management and reporting operations with built-in machine learning capabilities.
3. Omnichannel and Personalized Experiences
Customers' expectations have shifted dramatically around the globe. Customers now use their smartphones to verify product availability, check promotionson dynamic in-store signage, and then decide whether to buy or visit the store in person. More than 80% of customers prefer omnichannel experiences, so it is critical for retailers to provide the best possible customer experiences in order to maintain a competitive edge in the industry.
4. Keep your Business Competitive and Future-Proof
The retail industry is highly competitive. The evolution of Artificial Intelligence is well-documented, from virtual personal assistants to chatbots to IoT devices. As a result, merchants must develop new business models to attract customers and boost customer engagement. Dynamics 365 Commerce enables retailers to remain agile and keep up with market changes, such as changing customer demands and technology, in order to establish a foundation for long-term competitive advantages.
5. Keep Up with the latest trends in order to meet Customer Expectations
Customers' needs are always evolving and growing more difficult to meet. To boost conversions and keep up with changing customer needs, retailers must constantly modify their products, product display, sequencing, and price. Dynamics 365 Commerce to provide retailers with predictive, optimized, and personalized insights into customer needs.
About Raybiztech
Raybiztech is a leading global Information Technology (IT) Services and Solutions, a CMMI Level 3, ISO 27001:2013 Certified Company. We are a Member of NASSCOM, HYSEA, NJTC, and AIIA. Raybiztech offers comprehensive end-to-end IT Services for Business Application Development, Enterprise Solutions, Enterprise Collaboration Services, Testing and Quality Assurance Services, Cloud Computing and IT Infrastructure Management to organizations in the Banking & Finance, Insurance, Healthcare, Manufacturing, Retail, Media & Entertainment, Leisure & Travel, Telecom and Energy & Utilities verticals as well as Independent Software Vendors.