Dynamics 365 on the Cloud: Cloud Migration Features and Benefits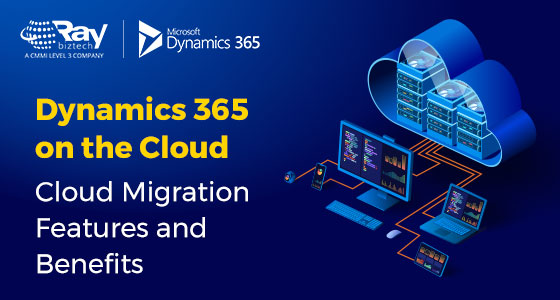 Cloud migration enhances the Microsoft Dynamics 365 platform's mobility, agility, scalability, and flexibility.
Why should you switch from Dynamics On-Premises to Dynamics 365 in the Cloud?
The cloud has transformed the business world because it is a deep-rooted technology that has become a necessity in today's world. Almost every company in every industry is migrating their systems and operations to secure cloud-based platforms at an increasing rate, leaving their competitors to deal with operational disruptions, rising IT costs, and increased commercial risk.
Benefits of Migrating to the Cloud
Cost Savings: Cloud service providers offer maintenance and updates for a small upfront fee, cloud migrations reduce operating costs. In addition, cloud migrations reduce the technical team and licensing requirements, resulting in indirect cost savings.
Flexibility: Cloud migrations allow for upward and downward expansions based on business requirements, as well as horizontal expansion via globally distributed data centers and the integration of hybrid cloud computing solutions.
Scalability: As your business grows, you will be able to quickly innovate, expand, and pivot because cloud migrations free up space and capital by allowing you to scale up or down based on your IT needs.
Performance: Because data is more visible in the cloud, cloud migrations enable better interactions, communication, and faster decision-making because infrastructure time is reduced.
Collaboration: By migrating to the cloud, your team will be able to access critical data and business information from any device, anywhere in the world. This ensures that your team can work efficiently and securely from any location, with the least amount of downtime.
Data Security: Numerous case studies have demonstrated that data stored in the cloud is far more secure than data stored on-premises. Furthermore, cloud companies provide enhanced data security, access control, and availability, allowing only authorized users to access sensitive data.
Disaster Recovery: One of the most significant benefits of cloud computing for businesses is that it aids in disaster recovery efforts. In the event of a disaster, you will still have access to all of your critical business data in the cloud. As a result, hosting systems and storing records in the cloud is a prudent precaution.
Deployment: Instead of spending weeks, months, or even years establishing an internal IT infrastructure, you can deploy cloud-based services in as little as an hour or a few days, depending on your needs.
Updates: Although cloud service providers manage software updates, automatic software updates are included in cloud migration and are available at a fraction of the cost of typical licensing fees.
Features of Dynamics 365 Cloud
Efficiency
Implementation is simple and does not necessitate the purchase of additional hardware.
Product development that is consistent
Twice a year, new feature upgrades are released.
Access via the internet
Scalability and Adaptability
Cost
Reduces the cost of maintaining a dedicated private server.
Monthly subscription that is predictable
There will be no new licensing fees.
There are no recurring licensing renewal costs.
Security
There are five levels of information security and data protection.
Disaster recovery services that are automated
24/7 Support
Integration
Innovative integration with Microsoft's Office 365 platform
Power Apps and Power BI are supported.
Significant Advantages of Using Dynamics 365 Cloud
Get a 360-Degree View of Your Business
The Dynamics 365 cloud gives you access to all of your critical business data in a single location. Traditionally, data is kept separately on-premises, making it difficult to view information at the appropriate time.
Adapt Quickly to Business Needs
You can enhance your Dynamics 365 experience by migrating to cloud-based Dynamics 365 solutions and using pre-built Microsoft business applications.
Improving Productivity and Collaboration
Reducing the demands on IT resources by migrating to the cloud at the same time gives them more time to focus on high-priority tasks.
Software Upgrades that are Easier
Every time there is a new version of Dynamics software, you must go through a lengthy and complex migrating procedure. When you migrate to Dynamics 365 in the cloud, software upgrades are automatic and ongoing, with new features and functionality added on a regular basis.
Quick and Simple Innovation
If the service or software was not included in your initial package, on-premises innovation usually entails a lot of new code or an inability to integrate.
Power Apps and Power BI
One of the major benefits of migrating to the Dynamics 365 cloud is easy access to Microsoft Power Apps and Power BI. Power Apps allows you to create a custom display using drag-and-drop functionality.
How to Migrate from Dynamics 365 On-Premises to Dynamics 365 Cloud Successfully
A successful Dynamics cloud migration will help you reduce costs, increase scalability, and significantly reduce the chance of a cyber-attack. Still, migrating to the cloud can be a daunting task due to many concerns about stability and pricing. To ensure a successful cloud migration, you need the right strategy, which includes planning and preparation.
About Raybiztech
Raybiztech is a leading global Information Technology (IT) Services and Solutions, a CMMI Level 3, ISO 27001:2013 Certified Company. We are a Member of NASSCOM, HYSEA, NJTC, and AIIA. Raybiztech offers comprehensive end-to-end IT Services for Business Application Development, Enterprise Solutions, Enterprise Collaboration Services, Testing and Quality Assurance Services, Cloud Computing and IT Infrastructure Management to organizations in the Banking & Finance, Insurance, Healthcare, Manufacturing, Retail, Media & Entertainment, Leisure & Travel, Telecom and Energy & Utilities verticals as well as Independent Software Vendors.