Microsoft Dynamics 365 for Retail Management System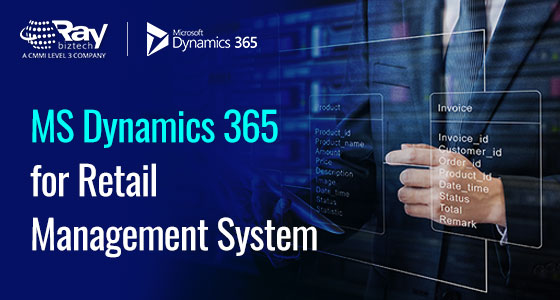 Today's Retailers and Commerce businesses need to adapt to the rapidly changing consumer purchasing landscape in this Digital Transforming world.
Microsoft Dynamics 365 for Retail is an omni-channel solution for retailers & Commerce industries provides a solution that enables businesses to deliver the best possible customer experience throughout the buying cycle.
Let's discuss the features of Microsoft Dynamics 365 for retail management system.
Features of D365 in Retail:
Deliver exceptional customer experiences
.
D365 Retail Gives your salespeople the product and customer information they need to provide immediate, personalized service—across social media, mobile sites, stores, and other retail touch points. And it also helps in providing deliver amazing customer experiences. With the Dynamics365 in retail moves the products smoothly from procurement to sale as well as Merchandise effectively.
Fast-track your business performance.
Microsoft Dynamics 365 for Retail provides live/real time view of all the metrics and data analytics. This cloud-based Microsoft ERP system provides the relevant information that is helpful to analyse for strategic, data-driven insights to key departments.
D365 retail helps in providing immediate financial insights. It also helpful to Drive corporate strategy and growth of business. And helps in Decrease debt through efficient collection management.
Improved Retail Management.
Microsoft Dynamics 365 in Retail industry improves the visibility across connected distribution, customer service, sales, and marketing systems so you can innovate your products and processes to meet rising expectations.
Microsoft Dynamics 365 for Retail delivers this ERP system continuity and helps you in Simplify production floor management and accelerate product introductions. Offer flexibility in delivery alternatives.
Create seamless shopping experiences
D365 retail helps in Increase revenue, customer satisfaction, and brand loyalty by delivering a consistent shopping experience across stores, web, mobile and call centres
Manage inventory more effectively
With the Dynamics365 Retailers can now effectively manage their merchandise by acquiring inventory from the correct vendors at the right price. D365 retail makes it easier to store real-time data on the latest trends, consumer demands and competitive pressures giving insights into stock allocation and replenishment. Dynamics 365 retail helps to offer the exact and right merchandise and with the right price, in the most successful channel by centrally tracking all product attributes.
Empower employees to deliver on business growth
Dynamics 365 retail Empowers the employees to provide outstanding service and Enable collaboration and information sharing between the teams in a company.
Optimize operations with intelligent business insights
With D365 retail we can get ahead of trends with well-informed merchandising decisions faster and Streamline inventory and supply chain management efficiently.
Dynamics 365 for Retail is the very helpful for retailers in various industries. Here some of the examples of D365 in retail.
Apparel and Fashion:
Stock control
Efficiency of warehouse users
Efficient data synchronization
Open-to-Buy
Head quarter control
Loyalty Program
Furniture:
Stock Management
Price Control
Increased Productivity
Sales Management
Product Groupings
Store Openings
Electronics:
Faster business response
Reduce operating costs
Net ROI
Integrated handling
Streamlined financial processes
Dynamics 365 for Retail & Commerce is an end-to-end solution that helps retailers create amazing customer experiences, support their employees, optimize operations, and transform their products.
You can implement business processes and systems that are seamless, cost effective, fast, flexible and 100% customer orientated with Dynamics 365 for Commerce (Retail).
Contact our
Dynamics 365 experts
today.