How to Leverage Dynamics 365 for Automation of Accounts Payables?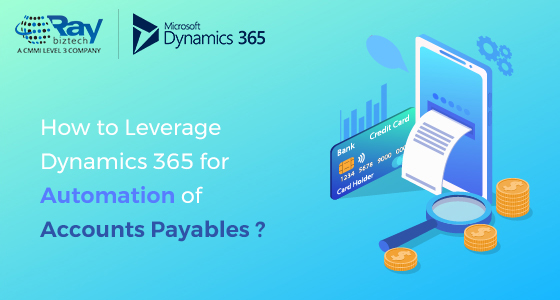 With innovation and immense breakthroughs in workflow automation, firms are increasingly insisting on acquainting their Accounts Payable executives with an automated environment by focusing on ease of transition from legacy systems handling finances and payables, coupled with required training. The approach will help in avoiding massive integrations for future upgrades, with an eye to consistency and overall system stability. The automation of Accounts Payables with Microsoft Dynamics 365 results in greater scalability, maximum integrity, and minimal purchase-to-payment processing costs.
Most of the enterprises are opting for a rapid startup process that can get the automated system running in a few weeks. The finance department can save a significant chunk as the processing costs of financial instruments are cut down drastically with the use of specific Dynamics 365 module for automating financial operational processes.
By leveraging the desired components, a firm can build a process automation road map that encompasses Accounts Payable function and beyond. It also offers potential ease of integration with an ERP through minimal involvement of the core IT personnel. Most of the decisions on automation can then be taken by the finance staff or department at their own discretion. Such an initiative sets the tone as well as mileage towards comprehensive enterprise-level finances automation strategy.
There are few broad directions to automate the Accounts Payable function with the Dynamics 365 capabilities:
As one of the basic requisites, set up Payment Journals within the General Ledge page created and defined for the company
If you are dealing with multiple currencies, set up exchange rates using the Currencies page.
Set up bank accounts associated with specific vendors into the cash and bank management page.
Define dedicated templates for tax authorities tied up with the user for reporting sales tax into the vendor page, thereby assigning values to the respective vendor pages
Create and define a Vendor Groups page which will deliver a consistent functionality for posting, reporting, forecasting, and payment settlements
Define the mechanism of posting vendor transactions to the general ledger
For swift automation of the Accounts Payable section, insert values into the pre-defined template, which in turn determines the order of precedence in case more than one Settings exist (apart from default Setting)
Set up Explicit Workflow configurations for purchase requisitions and journal approvals on the specific Accounts Payables workflow page.
When it comes to transactions with vendors and business partners, as well as government norms and regulations, Dynamics 365 platform aids enterprises in meeting compliance standards by incorporating validations and business rules into the larger enterprise system. This also ensures a greater level of transparency and saves huge costs on fines imposed by government authorities and penalties on violation of norms or regulations that differ from country to country.
About Raybiztech
Raybiztech is a leading global Information Technology (IT) Services and Solutions, a CMMI Level 3, ISO 27001:2013 Certified Company. We are a Member of NASSCOM, HYSEA, NJTC, and AIIA. Raybiztech offers comprehensive end-to-end IT Services for Business Application Development, Enterprise Solutions, Enterprise Collaboration Services, Testing and Quality Assurance Services, Cloud Computing and IT Infrastructure Management to organizations in the Banking & Finance, Insurance, Healthcare, Manufacturing, Retail, Media & Entertainment, Leisure & Travel, Telecom and Energy & Utilities verticals as well as Independent Software Vendors.