How Microsoft Dynamics 365 drives Digital Transformation in SMBs?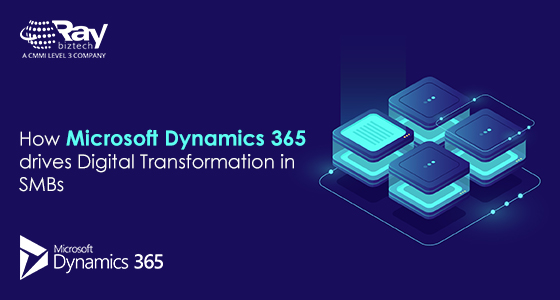 Many businesses of varied sizes have understood the significance of digital transformation. They have become steadfast in bringing about innovation and adopting disruptive technologies. Thus, the process of digital transformation has become more of a reality than just hype to talk about.
With more emphasis on businesses pursuing expansion, the role of Microsoft Dynamics 365 Business Process has become crucial in transforming business processes to a bigger scale to accelerate growth. It has been built around a foundational product that can be tailored to industry-specific requirements.
The Dynamics platform has offered key advantages over other contemporary solutions – like Salesforce - seemingly affordable by SMBs, but "lock down" customer data and a heavily-tiered complex subscription model. Also, the cloud-based capabilities have made Dynamics 365 an ideal option against the likes of Siebel or Salesforce. This has eliminated the need for a large team of consultants, wherein the deployment can be accomplished swiftly by means of digital tools and methodologies.
System Integrity
Microsoft has been concentrating on Dynamics 'custom builds' targeted at a wide range of SMBs with the required degree of agility and integration. This allows businesses to migrate data into newly deployed systems, and implement new processes within existing legacy systems with a capability to scale up productivity and operations, in tune with a well-defined road map to change management process. The need for stand-alone systems for handling billings, financials, and account management has also become a thing of the past for SMBs.
Reporting
Microsoft Dynamics 365 has also been programmed to leverage its reporting mechanism to enable real-time decisions based on a single source of truth by efficiently curating data generated across disparate applications, subsequently saving time and money for SMBs. The Dynamics 365 option is poised to accelerate the growth of organizations by the power of disruptive technologies so as to maximize the potential of software and infrastructure.
Account Management
The exclusive Microsoft Dynamics Membership Management platform can effectively manage specific clients in the travel industry under the "household accounts"scheme with an eye on the accuracy of information needed in a highly competitive segment. This enabled an SMB travel firm to essentially eliminate paperwork, increase performance, and automate the maximum number of processes through constant innovation.
Compatibility and Scalability
The Dynamics 365 edge is set to strike the much-needed balance between infrastructure and degree of automation for SMBs. It allows outsourcing of managed IT services with a greater degree of reliability and efficient change management; well-aware that poor infrastructure performance has a negative impact on software as well. Dynamics 365 makes itself compatible the desktops, infrastructure and software systems, thereby realizing a multi-system support for midsize business.
Thus, a well-defined Microsoft Dynamics 365 business transformation process offers enables midsize businesses to achieve digital transformation and growth, along with other outcomes such as increased ROI. This is more characteristic of manufacturing and heavy equipment industries like core engineering, aerospace, and automobiles, where digital transformation will enable machines and components to perform consistently within an autonomous mode of operation.
About Raybiztech
Raybiztech is a leading Global IT Services and Solutions a CMMI Level 3, ISO 27001:2013 Certified Company. We are a Member of NASSCOM, HYSEA, NJTC, and AIIA. Raybiztech offers comprehensive end-to-end IT Services for Business Application Development, Enterprise Solutions and Quality Assurance Services. Cloud Computing and IT Infrastructure Management to organizations in the Banking & Finance, Insurance, Healthcare, Manufacturing, Retail, Media & Entertainment, Leisure & Travel, Telecom and Energy & Utilities verticals as well as Independent Software Vendors.