How Dynamics 365 Business Central Fulfills Future Business Needs?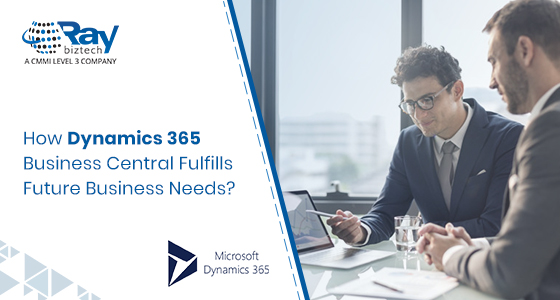 As a rival that can match the attributes of NetSuite, Microsoft initially rolled out the Dynamics 365 Business Central in the guise of an ideal ERP package for Small and Medium Businesses (SMB). Customers using Dynamics NAV can get accustomed to the Business Central package swiftly because it includes the essential NAV components such as Account Schedules and dimensions, and essentially runs on the same application code as that of Microsoft Dynamics NAV.
Stable Release and Functionality
Dynamics 365 Business Central shall be available by the end of 2018 with the Extension 2.0, and can either be self-deployed atthe premise, or hosted on a dedicated server. Business Central can offer specific capabilities to leverage businesses, as it can synchronize with the functionality of components such as Microsoft Flow, Power BI, and PowerApps.
The Business Central suite offers much beyond the Dynamics 365 for Finance and Operations, Business Edition there by addressing the requirements of common business processes and functions for Small and Medium Businesses, which span supply chain management, sales and service management, project management, and financial management.
Deployment and Installation
Dynamics 365 Business Central has been nurtured as an essential component of Microsoft growth strategy. A complete transition to Business Central is expected once the release of NAV 2018 R2 is accomplished. In addition to the core cloud-based platform features offered by Dynamics GP in the recent past, Business Central deployment ensures some key business requirements are fulfilled, in addition to specific ISV solutions based on ad hoc requirements. While choosing a deployment strategy, business owners and stakeholders can effectively consider the criteria such as timeline, best fit, process, and schedules; and Business Central will offer the most desired option. It is one of those solutions that can centrally fit into the Microsoft Dynamics stack.
Some of the crucial Business Central takeaways:
Microsoft will transition NAV 2018 to Dynamics 365 Business Central very soon
Business Central essentially presents a straightforward transition for GP customers
Financial statements for a single company prepared under Account Schedules
Native standard-level reporting similar to most of the ERP systems
Optimized user experience (UX) over Business Edition for greater productivity
With a number of Dynamic GP users looking forward to the Extension 2.0 release, the prospects for Microsoft Dynamics 365 Business Central remain bright. Eyeing the benefits of new governance norms, Microsoft has incorporated the General Data Protection Regulation (GDPR) guidelines outlined by the European Union.
Microsoft Dynamics Business Central: Down the Road
Thanks to Microsoft planning ahead and fast to release new vertical extensions, Business Central will offer a strategic opportunity for core Dynamics SAV partners. This will allow for specific ERP offerings - stored over the cloud - suitable for individual industries or service areas. A complete transition of the NAV 2018 to Dynamics 365 Business Central will pave the way for a desirable and seamless upgrade.
About Raybiztech
Raybiztech is a leading Global Information Technology (IT) Services and Solutions, a CMMI Level 3, ISO 27001:2013 Certified Company. We are a Member of NASSCOM, HYSEA, NJTC, and AIIA. Raybiztech offers comprehensive end-to-end IT Services for Business Application Development, Enterprise Solutions, Enterprise Collaboration Services, Testing and Quality Assurance Services, Cloud Computing and IT Infrastructure Management to organizations in the Banking & Finance, Insurance, Healthcare, Manufacturing, Retail, Media & Entertainment, Leisure & Travel, Telecom and Energy & Utilities verticals as well as Independent Software Vendors.