What is D 365 Business Central & What RBT's Business Central Developers Can Deliver?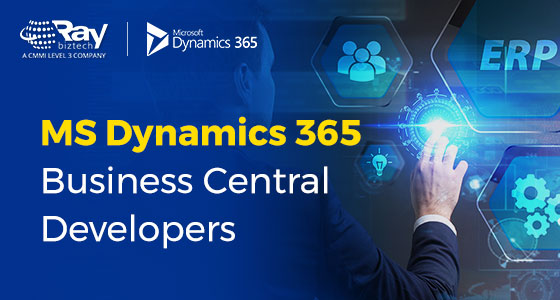 Dynamics 365 Business Central (previously known as Microsoft Dynamics NAV or Navision) is a complete ERP solution hosted in the cloud that offers financial, operations, sales, and customer service functionalities. It is based on the new modern, modular applications and has extensive analytical and Artificial Intelligence capabilities.
Users can automate processes, secure the supply chain and take advantage of advanced project management functionality. Dynamics 365 Business Central is a modern business solution for small and medium-sized enterprises.
To experience all the functionalities, an expertise business central developers team should put-forth to fulfil your goal successfully.
Why choose the Dynamics 365 Business Central ERP solution?
Flexible, scalable, and extensible modern ERP solution
Unified and intelligent data and processes
Fast implementation, integration, faster time to value
You run end-to-end business processes from Outlook
Cloud and reliable Microsoft security
Complete view from the Cloud
Meets and exceeds business requirements
Dynamics 365 Business Central - a proven ERP solution
The solution is based on the cloud to improve business processes, to encourage interactions with customers, allowing you to grow your business by:
Unifying the business and boosting efficiency with automated tasks and flows, all with the help of familiar Office 365 tools, such as Outlook, Word, and Excel
Achieving better results and gaining a complete view of the business through connected data, business analysis, and recommendations provided with the help of Business Intelligence Power BI
Evolution with vertical or functional extension. A flexible platform that facilitates the expansion of the solution based on the changing needs of the business
How can you benefit from the Dynamics 365 Business Central ERP solution?
Availability on-premises
Dynamics 365 Business Central is available on-premises. This means the business solution is installed locally on the company's computers and servers.
You have more control over the implementation process but, it may take longer until you can benefit from the solution
Customizations are still available
But, on the other side, the cost of the initial investment is higher, and the annual payment is required for maintenance, hardware, and IT staff
Availability in the cloud
Dynamics 365 Business Central is a cloud-based solution designed in the context of digital transformation. A cloud-based solution is hosted on the provider's servers and accessed through a web browser
You are solely responsible for security
Fast implementation
Stability and constant updates
The provider is responsible for security
Low costs, easy to anticipate
No investments in hardware and IT resources are required
The most important functionalities of Dynamics 365 Business Central
Essential licenses allow users to use most of Business Central's functionalities, including Supply Chain Management and Project Management.
Premium licenses include everything available for the Essential license, plus access to Service Management and Manufacturing functionalities.
Financial Management
You efficiently manage the general ledger, workflows, and audit trails, as manage banks, budgets, deferrals, reconciliation with banks, fixed assets, and currencies.
Sales Management
Users can register and manage contact information for all business relationships. These contacts can be segmented and used in different marketing campaigns. Integrated with Dynamics 365 for Sales in just a few steps, Dynamics 365 Business Central allows users to synchronize information such as inventory levels and sales orders with customer operations.
Business Central Developers Strategy of RBT Team:
We are Microsoft Gold Partner who keeps an upright knowledge on Dynamics 365. If you wish to be a Technology Leader, then be ready to experience the difference with Dynamics 365.
We have accomplished dozens of Dynamics 365/CRM projects summing thousands of practice hours. If you expect to transport your fleet of data from Dynamics 365 or CRM to other web portals, corporate software, POS, ERP, and others our D 365 developers team is here to back you with the best Microsoft solutions.
Our bottom-line mission statement is to empower every individual, every business at every interval. Dynamics 365's specialists from RBT are here to help you lead to your CRM ventures.
Contact our
Dynamics 365 experts
today.