10 Benefits of Using Microsoft Dynamics 365 Finance and Operations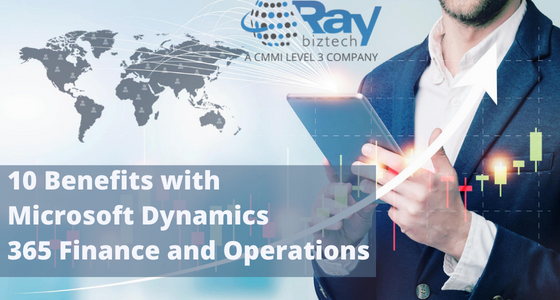 The Microsoft enterprise resource planning system for medium to large businesses, Dynamics 365 for Finance & Operations, covers the whole range of accounting, financial management, production, sophisticated warehousing, and transportation management.
The most recent cloud-based version of this platform is Microsoft Dynamics 365 for Finance and Operations, formerly known as Microsoft Dynamics AX. Its role-based user interface has been improved, and it has more capability than earlier versions of MS Dynamics AX. Functionality apart, a new approach to upgrades and strong interaction with Microsoft Cloud infrastructure are the primary differences.
A modern ERP with new UI, new functionality, and incredible integrations to Microsoft CRM apps, portals, and business intelligence, Microsoft Dynamics 365 for Finance and Operations provides you a competitive edge.
Powering the Digital Transformation:
Deliver efficiency through seamless end-to-end integration of Microsoft Business Applications
Turn data from financial and business operations into accurate and actionable insights
Drive faster innovation and continuous improvement to satisfy customer demands
Intelligent insights:
Financial Provide unified view of your business performance and customer needs to deliver real-time response and increase revenue.
Supply chain Streamline and better execute supply chain and distribution process that delivers on customer demands.
Warehousing & transportation Empower employees to effectively run operations, reduce transportation costs and increase delivery accuracy.
What is the benefit of upgrading to Microsoft Dynamics 365 for Finance and Operations?
You might wonder whether you need to upgrade to Microsoft Dynamics 365 for Finance and Operations if you already utilise an older version of Microsoft Dynamics AX. Since all of Microsoft's products are of excellent quality and functionality, the solution can appear difficult. Dynamics AX 2012 and Dynamics 365 for Finance and Operations were compared, and we came up with a list of notable advantages that users of MS Dynamics 365 for Finance and Operations most commonly mention.
Cost Savings from Modern Automation
The transition from your current version of Microsoft Dynamics AX to Microsoft Dynamics 365 for Finance and Operations(D365FO) may seems expensive and time-consuming. You save more dollars than you invest as a result though. The D365FO capability helps in discovering and eliminating unnecessary resources. It reduces operating expenses and improves the use of human resources.
Accessibility
The most recent edition of Microsoft Dynamics 365 is prepared for a variety of devices, platforms, and mobile apps. Any installation and customization issues you may have had in the past won't arise. Microsoft Dynamics 365 for Finance and Operations' accessibility is increased even further by the cloud version.
Integration
With Microsoft Dynamics 365 for Finance and Operations, integrating and customising various business and productivity software modules and components, such as CRM, BI, various IoT apps, productivity tools, etc., is easier.
Microsoft Power-BI
An integrated analytics tool powered by Microsoft Power BI is a standard feature of MS Dynamics 365 for Finance and Operations. This enables real-time visibility at all times and enriches and accelerates the production of analysis and reports.
Progressive Improvement
Updates can be made on a regular basis with Microsoft Dynamics 365 for Finance and Operations (every three months for the platform, and every six months for the application). Without the need for ongoing substantial deployments, you constantly leverage the newest technology.
AI Predictive Capabilities
The most recent developments in Cortana and Azure machine learning are used by Microsoft Dynamics 365 for Finance and Operations. With the help of their cutting-edge algorithms, the simple descriptive data you previously utilised can be transformed into a potent instrument for spotting the most beneficial situations. In addition to uncovering underlying tendencies, you gain from prompt answers.
Cloud Benefits
On Microsoft servers, Microsoft Dynamics 365 for Finance and Operations is hosted. It means lower maintenance costs for your own hardware and servers for you. Additionally, the physical space you free up (which can be reasonable). The cloud also gives flexibility so that your company can expand and scale at its own rate.
User Interface
The new, user-friendly interface is simple and intuitive. Users may manage processes and assets in real-time with the customizable activity-based workspace. Similarities to Microsoft Office 365 make the service feel comfortable to you and lessen work-related stress. The platform provides country-specific capabilities for more than 50 nations and is available in a variety of languages. It is therefore ideal for global businesses
Manufacturing and Retail Functionality
The latest manufacturing and retail functionality now includes cloud-based point of sale (POS), omnichannel management, merchandising and catalogue management options, management of rebates, royalties, and trade allowances, multi-site warehouse management, direct and indirect procurement, eProcurement, and vendor self-service portal.
Data Privacy
Disaster Recovery(DR) and round-the-clock technical support are included with Microsoft Dynamics 365 for Finance and Operations. World-class cyber security is offered by Microsoft Azure. Your data is well secured, and you don't have to pay extra for workload protection.
Choose Microsoft Dynamics 365 Finance and Operations as Your Next Step
Are you interested to know? Have any questions? If you
get in touch with us
, we'll be happy to help you customise and upgrade Microsoft Dynamics 365 for your company. As a Microsoft Gold Partner, Ray Business Technologies is prepared to use all of its resources to make its expertise beneficial to you.