How do firms benefit from migrating to Dynamics 365 on the cloud?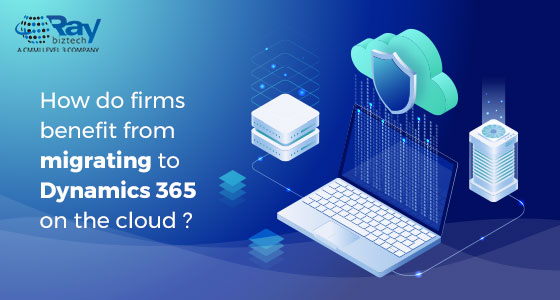 As more and more organizations look to innovate with path-breaking technology, the transition from on-premise Dynamics CRM to cloud-based Dynamics 365 has become cost-effective, and very much the norm.
All one needs is a web browser and an internet connection with a cloud-based Dynamics 365 setup, as all the entire software resides on Microsoft servers. The Dynamics 365 is essentially an iteration and innovation over the traditional on-premise Microsoft Dynamics CRM. As business conditions are turning dynamic and the technology is evolving, Organizations need to bring disruptive updates to their on-premise systems, which can be achieved through the transition of Dynamics 365 to the cloud.
Firms are said to leverage Microsoft Dynamics 365 to keep the clients satisfied and happy, by pursuing stable relationships. It helps focus on Customer Service, Sales, and Marketing Microsoft manages the backups, patches, and upgrades, letting your IT team rely on the core issues.
The transition from Dynamics CRM to Microsoft Dynamics 365 over the cloud helps organizations in more than one way:
Real-time Updates: Employees across functional units can edit, share and use documents in real-time, by leveraging Dynamics 365 serviced through the cloud. With just an internet connection and a browser, marketers can access the enterprise solution and retrieve essential updates and important customer information. Being on the cloud, remotely accessing data and collating information from various sources is poised to drive business agility with Microsoft Dynamics 365.
Cross-architecture capabilities: With Dynamics 365 on the cloud, users can access data from a number of mobile devices such as the tablet, Smartphone, or even iPad. This helps in improving productivity with the workforce connected to access data and applications from remote locations. This enhances overall accessibility, availability, and customer engagement levels across the customer bases as well as the target audience. Field service executives can have access to real-time customer data for offering improved customer service. Maintenance of hardware and the complexity with backups and patches are duly taken care of by Azure.
Reliability and Security: The Azure cloud offers greater security for the hosted Dynamics 365 application on the cloud. The software resides on Microsoft servers on a cloud-based Dynamics 365 instance running exclusively. Microsoft Azure is responsible for maintaining the entire software infrastructure, which covers security, data backups, and relevant deployment and performance updates.
Synchronized Data Views: The on-cloud Dynamics 365 offers a range of options to collate and present data by virtue of five distinct apps, such as the Sales, Customer Service, Project Service Automation, Lead Generation, and more. The apps can either be leveraged to perform as stand-alone or in a well-integrated seamless manner. The scope for deep integration allows the firm to leverage Power BI stack along with components such as the Outlook, Office365, and SharePoint; to track communication, respond to e-mails, and regularly sustain contacts' data. Implementing Azure, the firm can effectively pursue an on-cloud Common Data Model (CDM) to generate a 360-degree view of enterprise data.
Microsoft Dynamics 365 is thus seen as the next-level innovation that is way ahead of on-premise CRM and offers a host of benefits on the cloud; thereby placing marketers on the same page with customers acrossthe businesses offerings.
About Raybiztech
Raybiztech is a leading global Information Technology (IT) Services and Solutions, a CMMI Level 3, ISO 27001:2013 Certified Company. We are a Member of NASSCOM, HYSEA, NJTC, and AIIA. Raybiztech offers comprehensive end-to-end IT Services for Business Application Development, Enterprise Solutions, Enterprise Collaboration Services, Testing and Quality Assurance Services, Cloud Computing and IT Infrastructure Management to organizations in the Banking & Finance, Insurance, Healthcare, Manufacturing, Retail, Media & Entertainment, Leisure & Travel, Telecom and Energy & Utilities verticals as well as Independent Software Vendors.