10 Reasons to use Kentico Xperience 13 as your DXP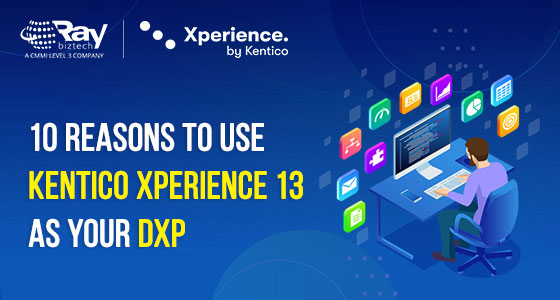 A Digital Experience Platform (DXP) is primarily the platform on which individuals, developers, and companies are willing to build their platform. It is a process of digital transformation that includes designing websites, web pages, and the other associated items that go on to make a successful digital space. In context, Kentico Xperience 13 is one of the most updated and beneficial software for any developer to use for their DXP.
Let us find out why Kentico Xperience 13 is so popular and widely used for DXP.

1. Reusable Content
Kentico Xperience 13 comes with a Reuse content feature that allows the editors of a site to reuse the existing content, templates, or pages.
Content can be reused by:
Utilizing related pages or pages with a similar nature on the site
Linking of pages or objects
Ad-hoc related documents
With Kentico Implementation, one can notice a huge difference in any DXP for the users.
2. Ready-to-use Toolkit
Whether it is about connecting to 3rd party CRM's, integrating with Site improve for web access, or content audits - the Kentico Toolkit is one of the biggest USPs of Kentico Xperience 13. It has a built-in feature of over 100 performance checks of the Xperience site on a daily or weekly basis. According to the Kentico Support team, this is one of the best features available to anyone who is starting out with the software as it gives them easy access to the features.
3. Voice Assistance Integration
Kentico Xperience 13 comes with KEVIN - the name for Kentico Xperience Integration with Amazon Alexa and Google Home. This is what makes the application eligible for use with the different voice assistants like Amazon Alexa and Google Home. The users can access and control the administration interface via these voice assistants. The voice assistant integration is one of the greatest advantages of using Kentico as there is no need for other input devices.
4. A Simple Platform
In terms of deployment and capabilities of the digital experience, Kentico is known to be one of the simplest to use. It has fax-less complex and technical pointers that help to make it more user-friendly. It also makes Kentico Xperience an easy to learn and time-saving platform.
5. Platform Enhancing
Some of the most important additions to the new Kentico Xperience 13 are what make it an interesting and efficient platform for use for DXP. The features like Search, Dynamic Routing, Page builder - are only a few of the features that have made it the first choice for many. It helps boost the productivity of the site and reduces the use of resources, and also takes it easy on the developers.
6. Best Available Marketing Automation
The built-in marketing automation tools on Kentico Xperience gives marketers on their DXP a much better workflow. It helps to ease the communication process, increases customer engagement, and ensures a better marketing performance. This is why Kentico is a versatile platform for any kind of DXP.
7. Excellent Web Framework
Increased control over code, simplified deployment, and industry-leading quality of the interface - Kentico Xperience 13 has got it all covered. All these features combined make the software a must option to consider for developers. Using Kentico for development purposes has proving to improve the site performance significantly.
8. No Portal Engine
The developers at Kentico Xperience believe in to-the-point, updated technologies that make the system easier for new users to run. This is why Kentico Xperience 13 does not have Portal Engine and ASPX Templates in their software. This also means that developers cannot use these old platforms and can use a more lightweight platform with a Kentico Upgrade.
9. Latest Approved Technologies
One of the greatest advantages of using Kentico Xperience is its focus on updated and modern technologies. The development of websites becomes easier with features that are available on the software. It helps in accessing an immense amount of data with very few resources. Building websites and apps are much easier when there is a user-friendly structure to work with.
10. Custom Routing
With the Kentico Upgrade, users get access to the content tree-based URL routing mode in addition to URL Approaches. The system automatically generates URLs for pages based on their content-tree positions. This maintains an organizational streak and keeps the content in place when later accessed.
About Raybiztech
As the Kentico Xperience 13 Gold Partner, Ray Business Technologies carries a competitive track record in all facets of Kentico development, upgrade, and maintenance. Our team of Xperience professionals can understand the modern requirements of creating and executing campaigns. Raybiztech offers full-cycle projects around Xperience by Kentico with a focus on customer satisfaction and the fulfillment of precise requirements. We deliver all the essential ingredients in order to improve brand consistency and to drive business goals.