Kentico regulates Digital Signatures and Content rights with Blockchain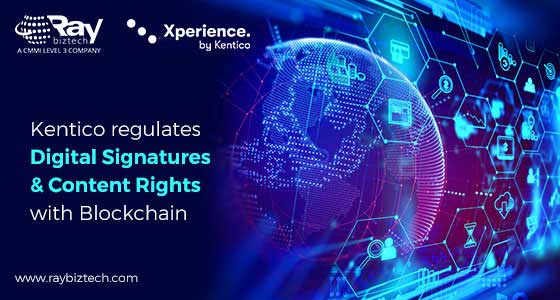 Digital Rights Management (DRM) spans the protection and regulation of various forms of content produced across the enterprise. Modern CMS applications such as Kentico emphasize effective digital rights management along with the regulation of intellectual property norms associated with the content produced and shared across and beyond the enterprise. It restricts the means of copying acquired content by consumers, as well as stops unauthorized distribution of information.
On-boarding Blockchain
As part of continuing R&D, Kentico will soon draw the feasibility and roadmap for leveraging Blockchain models to implement Digital Rights Management (DRM) across its portfolio. The technology essentially involves developing and placing padlocks – licensed encryption keys - over blocks of content. A DRMChain is one such model that relies on a pair of secluded Blockchain application interfaces (BAI) to storeciphered summary information of the original as well as the protected digital content respectively.

The DRMChain setup also offers the agility for validating chunks of multi-media content (audio/video), supported with provision for external storage to accommodate plain as well as ciphered digital content. It also offers a transparent view of traceability and usage control; while allowing a competent authority to retrieve and view distribution or publishing history.
Digital Signatures
The Distributed Ledger Technology (DLT) of Blockchain helps businesses and enterprise users furnish and validate signatures in a collaborative block-driven environment. Such an arrangement also offers options to determine if a digital asset is internal or external the concerned CMS – at the fundamental or bit-level, and whether the signature belongs to a validated competent authority.

The Blockchain record's 'immutability' trait helps with the automated tracing of digital documents along the route of its transfer, storage or retrieval. The deletion of any media content or editing a proposal document or a single value in a spreadsheet can be detected and tracked. Such a provision improves the level of confidentiality in a digital asset as well as prevents any imminent fraudulent use. Strong digital signatures help protect content authenticity and improve reliability of the Kentico CMS from a strategic perspective.
Content Copyrights
Kentico can leverage Blockchain to effectively evaluate as well as to authenticate authors who share or post content in the relevant CMS application. The system can effectively set permissions, and number of times a user can edit or add a document or new media file to the CMS. Enterprise users can make an electronic bid for exclusively copyrighted content with the buyers, and set out terms and conditions associated with licensing and content ownership after the sale is made. The CMS will allow the routing of offers for content buying to the original creators or authors with genuine conditions for the purchase. Smart contracts will enable completion of transactions involving enterprise content, along with adherence to underlying rights and protection of intellectual interests.
About Raybiztech
Raybiztech is the Gold Partner for Kentico applications, enabling firms to build amazing websites and run robust marketing campaigns. We are focused at serving clients with an aim to fulfill dynamic marketing and e-commerce needs. As a CMMI Level 3 firm, Raybiztech combines the on-shore and off-shore strategy with quality principles to deliver client projects with least turnaround time and the maximum operational efficiency. As the Gold Partner, our teams access exclusive Kentico resources for meeting evolving needs and expectations of the clientele spread across several geographic locations.