New capabilities in Kentico 9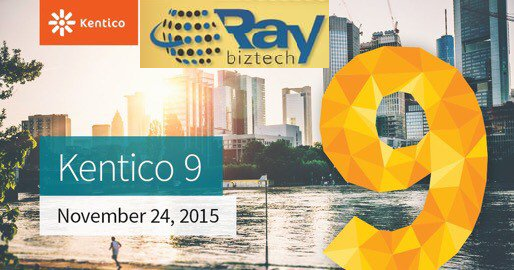 Kentico CMS is one of the popular web content management system used for building websites, intranets, web 2.0 community sites and online stores globally. Each Kentico version brings innovative features that will help the developers, businesses and end users to make things simple. The present expected Kentico 9 release date is 24th November 2015. Let us discuss what is new in Kentico 9.

Continuous Integration Support
To help developers build and deliver high quality projects faster:
Kentico will offer the ability to move all changes (physical files, code changes and Kentico objects) from one environment to another using continuous Integration server and Source Control with fully automatic deployment to another instance. With the same workflow for code as for Kentico objects, Kentico 9 will also support the synchronization of work between Kentico development teams and developers.
Custom Module Development Model:
To install and uninstall modules faster directly from Microsoft Visual Studio, modularity will be even better with Kentico 9 as it makes the applications related to modules more convenient to work and helps in making development easier.
Web Farm Support Enhancements:
With no additional configuration Kentico will provide out-of-the-box Web Farm support and helps in saving time of the developer's time. While being faster and reliable than ever before it has self healing capabilities and recovers from unexpected failures and it is robust. With a focus on environments using shared file storage for Web Farm servers and especially when synchronizing physical files, the performance has been improved across the board.
Anti Cross-Site Request Forgery (CSRF) Tokens:
To increase protection and security for all pages, security experts at Kentico are constantly developing and implementing tools that are new which help developers and with no reduction in website performance.
Usage of Form Controls:
In the Forms Controls Application there will be a brand new tab. It helps in letting know the developers where the particular Form Control is and it is used to find when you need to replace, delete or update it
Web Content Management
Web Parts and Widget Usages:
MVC Development Model improvements: For both developers and non-technical content editors using the Kentico MVC development model, the Kentico team will improve user experiences. For the removal of distracting page settings, content editors need a more semantic approach for content input. Kentico will introduce a newer, cleaner API, to improve the user experience for developers as well as best practices for its use.
It will be much quicker to find where particular Widgets and Web Parts are being used in Kentico 9. The developers can find the item in question and quickly decide if it can be removed, with the new usage feature.
Online Marketing
Integrated Campaign Management:
All campaign data in once place: In Kentico 9, creating, analyzing and executing campaigns related to marketing are now faster than ever. Marketers get access to Kentico's integrated digital marketing tools in one location, with the integrated Campaign Management.
Enhanced Marketing Automation:
Leveraging more data about visitors: With Contextual data about visitors marketing automation will be more enhanced in areas like E-commerce and through visitor-submitted forms.
Email Marketing Simplified: With the new user interface related to Email Marketing will be more streamlined so the marketers can focus on important things. Marketers can import large numbers of contacts from a CSV with mass Contact import and which helps in creating new contact group segments directly in the import process.
About Ray Business Technologies: Raybiztech is a CMMI Level 3, ISO 27001:2013 Certified Company and Kentico Gold Partner. Started in the year 2009, Raybiztech has grown significantly and currently operates from global offices in India, USA, Canada, UK and Australia and with over 220 resources. Raybiztech offers comprehensive end-to-end IT Services for Business Application Development, Content Management Systems, Testing and Quality Assurance Services, Enterprise Collaboration Services, Enterprise Solutions, Embedded Systems, Cloud Computing and IT Infrastructure Management to organizations in the Banking & Finance, Manufacturing, Healthcare, Insurance, Retail, Media & Entertainment, Leisure & Travel, Telecom and Energy & Utilities verticals as well as Independent Software Vendors.