Go DIGITAL with Microsoft!! A mantra for incredible transformation within INDIAN Companies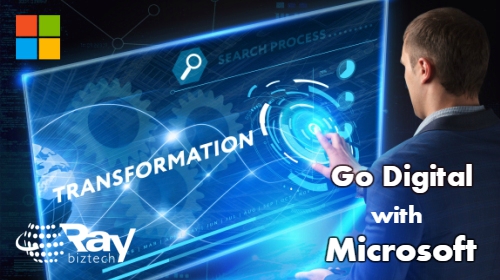 India is evolving everyday to become a Digital country and in verge of doing so, the prominent Indian companies are joining hands with companies like Microsoft and building their own Digital environment. In a recent poll of Microsoft Asia Digital Transformation Study, it was found that, about 88% business leaders in India agreed that cloud computing is a crucial part of their digital transformation process. Their view was that the cloud has made it more reasonable for companies of all sizes to board on their digital transformation process.

Five technologies - Artificial Intelligence, Internet of Things (IOT) Virtual/Augmented mixed reality, Quantum Computing and Next generation Computing are rising as most significant for India's digital growth via the cloud. These technologies will essentially change the way we live, work, and relate to one another. In its extent, and intricacy, the transformation will be unlike anything humanity has experienced before.

Recently, State Bank of India (SBI) one of the oldest banks in India collaborated with Microsoft.
Apart from this India's largest online lending marketplace, Paisabazaar.com has also entered into a tie-up with Microsoft.
Microsoft is pompous to be a partner of the government's Digital India program and is working with all the 29 states of India. Government of Telangana will use Microsoft cloud based advanced analytics including Artificial Intelligence.
Online shopping giant Flipkart collaborated with Microsoft for its Digital campaign.
Arnab Goswami's Republic has also joined hands with Microsoft.
Cars to go Digital too through OLA & TATA Motors collaborating with Microsoft.
After the introduction of Skype Lite, the fastest and the smallest app specially designed for Indian market, now it can be used for AADHAR verification.
It's time for INDIA to GO DIGITAL!! In every way, it could.