Convert PST file - - ANSI, UNICODE or even corrupt PST file - to MBOX and other file format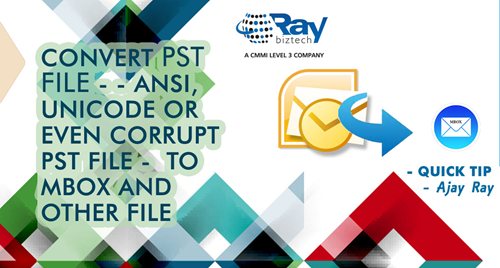 Today, E-mail client softwares have been widely used for communication needs of people and companies. The most popular email client, Microsoft Outlook, files are in OST and PST format. A PST file, referred as Personal Storage Table, stores all messages and rest of the items on computer.
But other Email Clients such as Pocomail, Eudora, Thunderbird, Apple Mac Mail, etc uses MBOX file format to store messages. And when You want to use Outlook data files in other platform such as Thunderbird, Apple Mac Mail, Spicebird, and any other email client, you will need to convert .pst to .mbox files.
In order to get a complete and a perfect PST conversion into MBOX file format, it is always recommended to use an automated email converter that has a capability to migrate files to other platforms. A complete conversion means transfer of all mail items including messages, task, journals, contacts, calendars, and other items of mailbox without any data loss. You can use "outlook-converter-wizard" software for PST to MBOX Conversion. It is a stand alone application developed with powerful algorithms to make it a useful product.
The "outlook-converter-wizard" software is a single utility which offers you to convert PST files to MBOX n other formats. This means using this software you can migrate PST files to MBOX and other file format anytime.
This software does not require Outlook
Using Outlook Converter tool you can view and convert PST to MBOX file and to various format without depending on MS Outlook or any other Email Client. It offers you to choose name of output file generated by the software. You can also change default destination path and specify storage location to save the file at your own preferred folder.
You can rely on this software Efficiency & Reliability
It is highly efficient and reliable tool. User can select large size PST file to convert into MBOX or other required formats. It will show you desirable and a precise result. This software has been tested with 30 GB file size and still worked properly without generating any error
It is a windows based software and runs perfectly on all previous & current version of Windows OS. It is simple and easy to use tool. You will feel no requirement of technical assistance to work with Outlook Converter.
Get Started
The simplest way to transit email files from Microsoft Outlook to Mailbox is to convert PST to MBOX files using Outlook Converter. It is one of the best software you can use to access PST files in other platform. It offers you to view and convert even corrupt PST files to MBOX files. It is a multi featured tool mainly developed to solve all problems of Outlook users.

Source: https://www.linkedin.com/pulse/convert-pst-file-ansi-unicode-even-corrupt-mbox-other-ajay-ray/