Australian Companies partner with Microsoft to bring Digital Transformation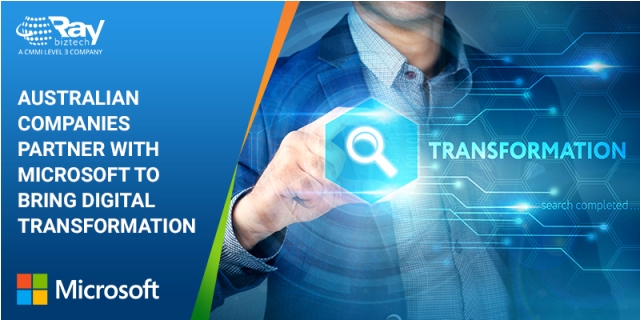 Many organizations across the globe are facing key challenges like lack of skill, minimal resources, silos, and resistant cultures that are hampering their growth. Recently several companies in Australia collaborated with Microsoft for Digital transformation. It is estimated that Digital transformation will add up to $45 billion to Australia's GDP by 2021 and will increase its growth rate by 0.5 per cent annually. With this move, there have been recent collaborations with Microsoft.





The University of Canberra is getting ready to unleash two Chatbots on campus to support students and staff, with a view to reform support services across the institution.

Microsoft recently announced the general availability of Microsoft 365 Business, purpose-built for small and medium business. Microsoft 365 empowers Basketball Australia to achieve more.

In a recent development, Australian Football League (AFL) clubs, the Sydney Swans and Adelaide Crows, are using technology to convert fan interactions and stakeholder management. Microsoft partner, JayThom, has developed SportsRM to manage complex corporate sponsorship and hospitality arrangements.

Now the Port Authority of New South Wales is raising the efficiency – planning a wholesale migration to cloud computing, starting with disaster recovery. Leveraging Microsoft Operations Management Suite, Azure Site Recovery, and Azure Backup services, the Authority's on-premise production data centre connects to the cloud DR through Azure ExpressRoute to ensure rapid and secure replication and recovery.

Another breakthrough, OLA has collaborated with Microsoft Corp. to build a new connected car platform for automobile firms. As part of the partnership, Microsoft will be a preferred cloud services provider to Ola, the Indian taxi start-up will use Microsoft Azure for Ola Play, the company's existing connected car platform.

The Victorian Institute of Teaching (VIT) is modernizing the way technology is used across the organization, moving towards a suite of cloud-based services from Microsoft to create a business and people centered platform that will deliver significant operational efficiencies.

The Royal Agricultural Society (RAS) has been supporting Australian agriculture since 1822. The Society's mission is to ensure that the agricultural industry is innovative, thriving, and sustainable. Microsoft Azure helps making the dream come true as it helps in integrating all the RAS websites.

Telstra and Microsoft announced a partnership to deliver managed enterprise voice services to Office 365 customers, and to co-develop solutions exclusive for the Australian market.

Office 365 has transformed the way Australian Radio Network (ARN) works. With improved employee mobility, communication, and cloud based support systems ARN is reaching to every individual in Australia.

Australia is clearly on the digital transformation fast track!