Gigya Customer Identity Management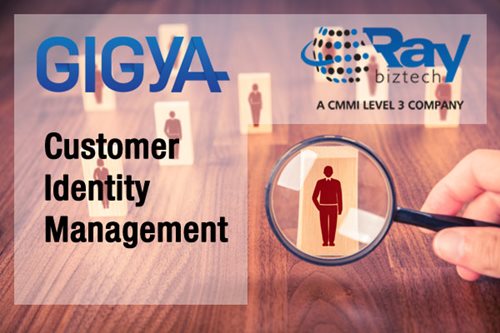 Gigya is a leading customer identity management platform trusted by leading enterprises in the world. It helps companies to turn unknown customers into known, engaged and loyal customers by collecting, managing and protecting user data. According to a recent report from Gartner, Gigya leads the customer identity and access management market across the world.
Raybiztech has vast experience in delivering Gigya solutions to enterprises across the world. With our strategy, design and integration experience to complement Gigya, you will have a solution that can be quickly implemented to help you enhance your customers' engagement.
Customer Identity Management became critical as businesses transformed and started facing enormous challenges driven by mega-trends in the global marketplace, where Consumers demand for more seamless and relevant experiences across devices and channels in exchange for their data.
Raybiztech has delivered innovative Gigya Solutions to a number of small, medium and large sized organizations on time and within budget. Whether you are leveraging a cloud-based CRM system, eCommerce, CMS, analytics or any other deployment, we can add value by integrating Gigya with your marketing technologies.
We understand that security and privacy are one of the most important aspects of our clients, therefore we offer privacy-centered technology, which satisfies our clients' privacy expectations and enables them to meet their legal obligations.
Our Gigya Solutions:
Implement and integrate, first-party data captured by the Gigya platform—via products like Registration-as-a-Service and Social Login
Integration with Dynamics CRM, Dynamics AX and SharePoint
Integration with Adobe or Salesforce Marketing Cloud
Single Sign-on (SSO) and Site Groups
Loyalty Management Solutions
Reports Development
Integration with AWS and Azure
Customer Profile Management
Customer Preference Management
Customer Identity Access and Customer Data
Web accessibility compliance audit
HIPAA Security Rule and HIPAA Privacy Rule audit
Gigya Administration and Audit
Customer Insights & Surveys
Behavioral Data Analytics
Why Raybiztech:
Over 13 years of excellent experience in delivering customer centric solutions
A CMMI Level 3 company with worldwide presence
Excellent Vertical & Technology capabilities
Vast experience in implementing Gigya for various industries across the world
Domain expertise in Healthcare, Education, Media, Legal, Retail and HRM
Dedicated team members to ensure successful delivery
Commitment to confidentiality and data security
Comply with data privacy laws from time to time