How to update Xperience by Kentico instance Evaluation license key in your local when it is expired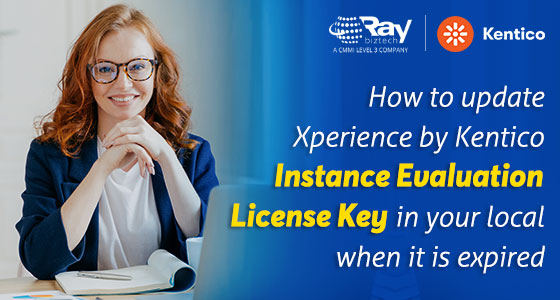 Xperience requires a license key for each domain name that your site utilizes to be registered in Xperience administration using the License Key application. If you do not have a valid license key for the domain name of the specific site, only a few applications will be available in the administration, and the live site will be unavailable.
By default, all license keys enable auto-scaling, allowing sites to manage increasing traffic and performance needs. There are no limits on the number of self-managed web farm servers or Azure Web Apps cloud instances that may be utilized to dynamically grow the application.
How to update Evaluation license key when expired you for your local Xperience by Kentico instance. You will get the following output when you browse your site in your local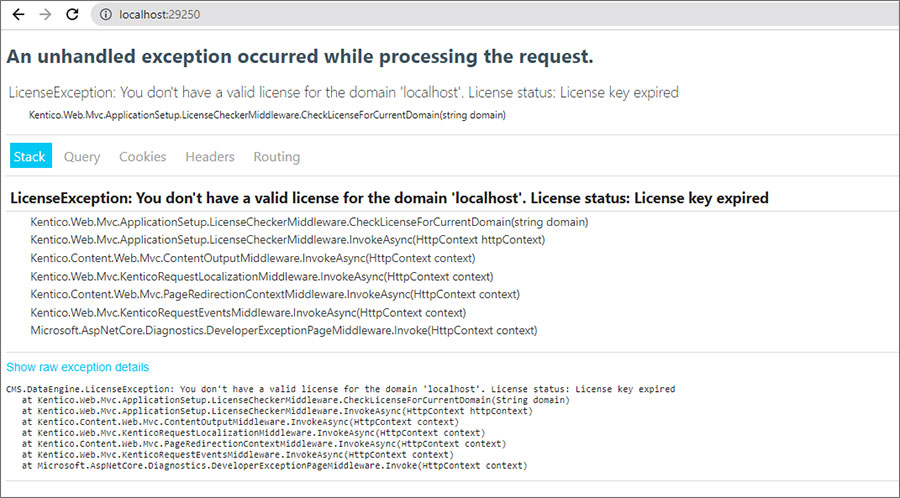 How to get new evaluation license key?
We have the two options
1. Contact
sales@kentico.com
to extend more time for evaluation
2. Create new user account in client.kentico.com and generate license Refer for details
https://raybiztech.com/blog/vasu-yerramsetti/kentico-xperience-product-setup-filedownload-steps
Once received evaluation license key from Sales team or generated from client.kentico.com, insert the key into the License app within Admin interface to continue your evaluation.
Now login into Admin interface of this website using
http://localhost:[port]/admin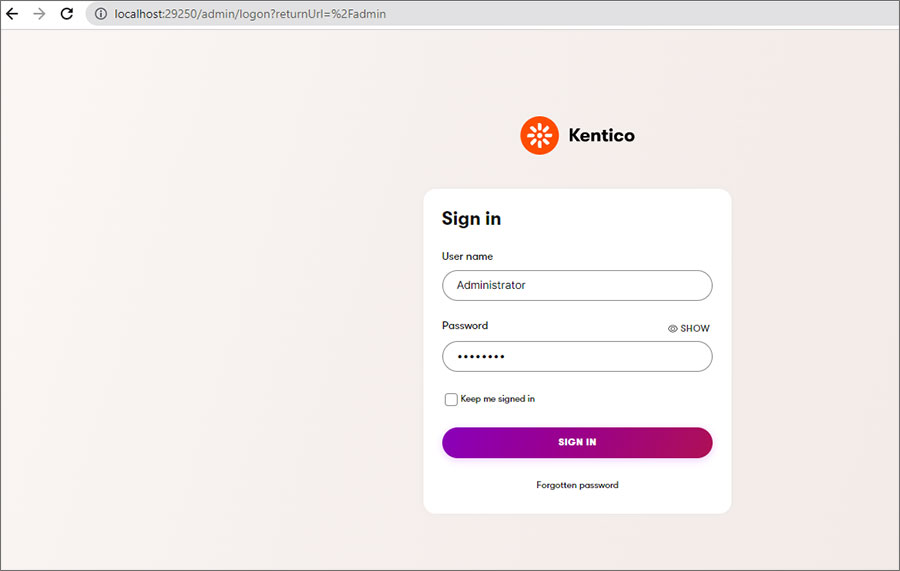 Enter valid username and password and get the following output after successful login with Friendly waring message like
Your license key for the current domain has expired. Refer below screen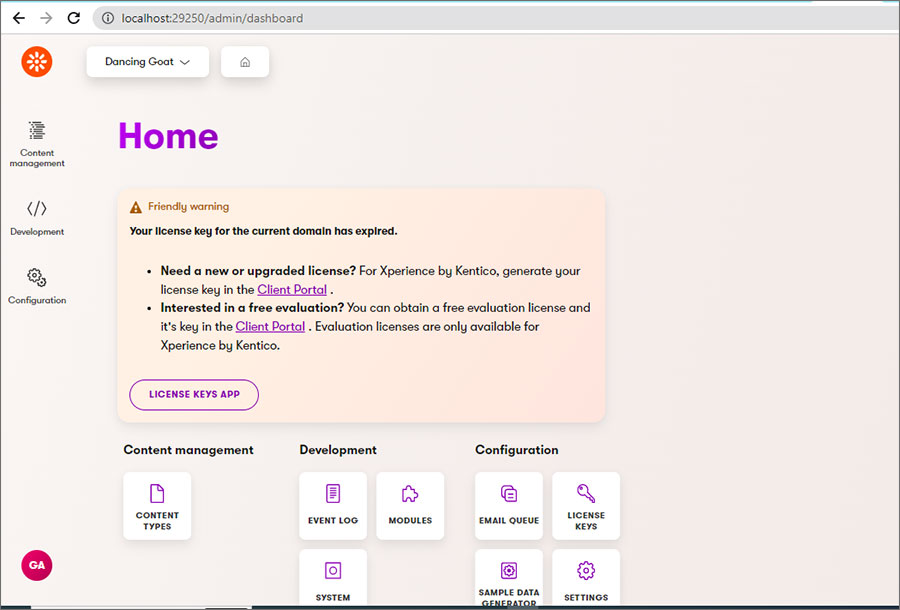 Click on
LICENSE KEYS APP
button to get Licenses App window like below –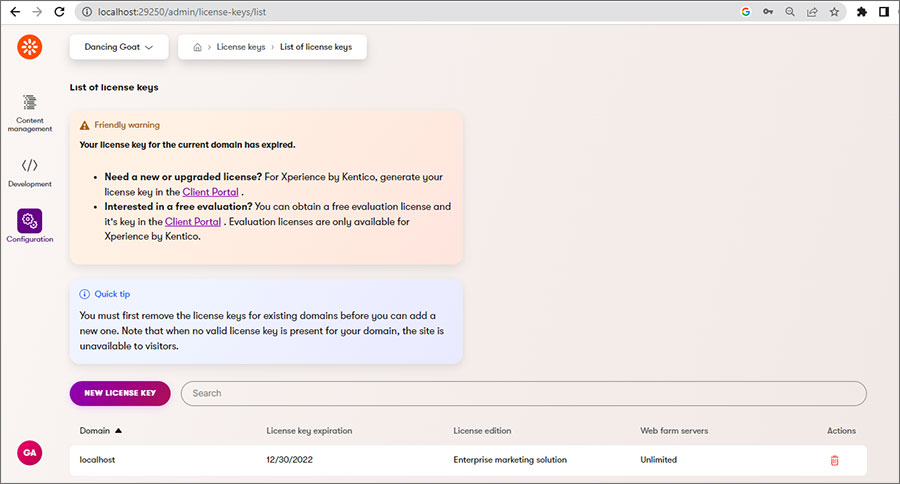 Now you can see the list of licenses with details like Domain, License key expiration, License Edition, Web farm servers and Action. Click on delete button and remove the expired license from list (refer same from Quick tip window)
It will ask confirmation pop-up while click delete button to delete confirmation.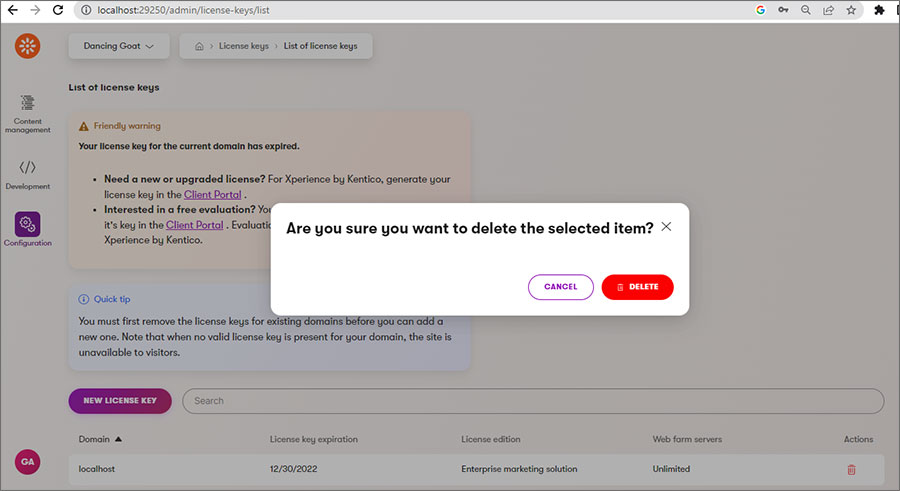 Click on
NEW LICENSE KEY
button to add new license after successful deleting existing expired license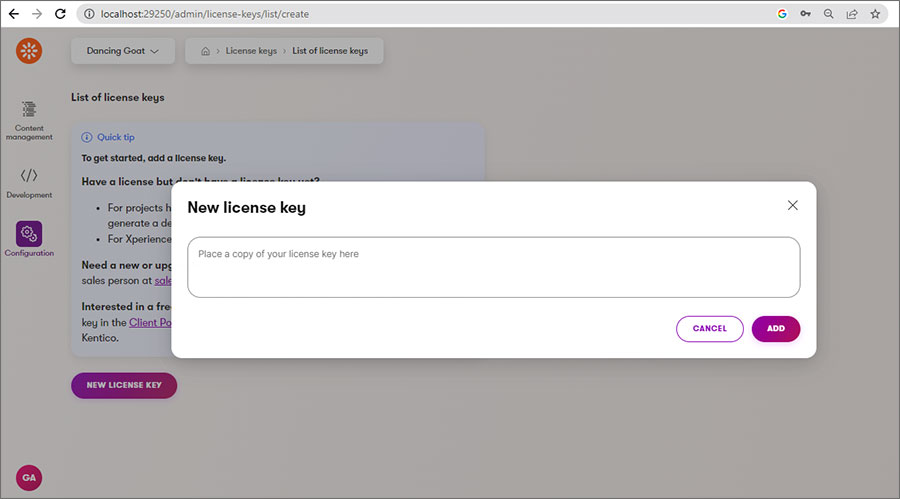 Now enter new key on textbox and click Add button. Now you can see new license in Licenses list

Now browse the your local website and you can see the output.
Currently, all license keys have the Enterprise marketing solution license edition with all features available.
About Author: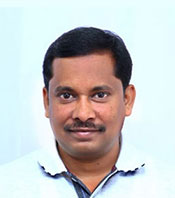 Vasu Yerramsetti is a Solution Architect at Ray Business Technologies. He is a Kentico Xperience 13 Developer. Vasu is also a Certified Microsoft Specialist, Certified Kentico 12 Developer, Boomi Professional Developer and an expert in Agile Development methodology, specialized in CMS, WCMS, e-Commerce, Intranet, Marketing Automation, Performance Enhancements, on Kentico, Sitecore, Sitefinity and SharePoint.

Author's Kentico DevNet Profile
Contact the Author: