How Kentico 12 .NET MVC Technology Leverages Widgets and Forms?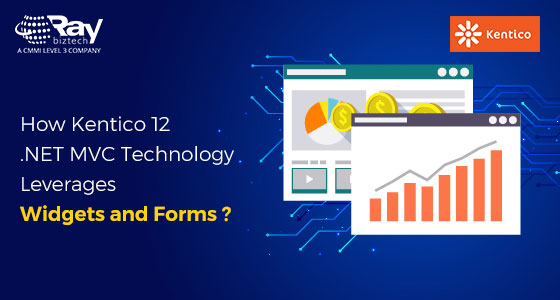 Dynamic content forms the core element of a robust digital marketing strategy, without which campaigns would lack creativity and render a dull or monotonous experience. Here comes the Kentico 12 version that is equipped with powerful MVC Page Builder to execute interactive campaigns that are much superior; and more creative and personalized to the core.
With the new release, marketers and developers can work around Kentico to create variants of the MVC widgets with the least of efforts, and personalize the entire customer journey for their valuable online visitors. The Kentico 12 applications will surely be exciting for marketers who could use it in a number of ways to frame and target more creative campaigns, without the need to rely on developers or resources that are technically sound.
Condition Types
The number of widget variants can be many, but the nature and types of such variants are defined by condition types. Thus, the MVC based web application development offers a range of choices for leveraging the most optimal combination of widgets.
A condition type dictates which personalization variant should essentially be displayed based on the specific parameters that define the target audience. Contact groups and personas are two basic elements or parameters, around which condition types are built.
Let us explore the components and condition types in more detail, as follows:
MVC Widgets
An MVC widget is essentially personalized by leveraging most relevant Kentico 12 MVC projects with the preferred choice of condition types. A widget can have many forms of personalization variants by virtue of the MVC Page Builder packaged with Kentico 12 release.
Marketers can select from the widget based on certain display conditions for the website. Developers can play with the MVC widgets, by virtue of numerous possibilities for setting up a marketing campaign by eyeing the strategy in place, as well as the target audience. The marketers have a wide choice of condition sets created by developers to choose from. A few of those validation conditions for widget variants can be based on:
Day of the week

Current Date (as well as Current Time)

Date of form submission

No. of days since the previous visit (specific page)
A marketer might opt to display a banner ad on a specific day. Alternatively, he may choose to run a campaign for a specific offer during a particular festive period or occasion. Advertisers might want to send a personalized alert or redirect page only to those prospects who have duly submitted their forms. Similarly, they would run a commercial based on whether a mail recipient has,say, read the newsletter sent out the previous month.
Exclusive Forms
As with widget personalization, Smart Forms created by the MVC Builder could well revolutionize how you collect data and connect with customers or prospects. With the Kentico 12 Smart Form options, one can set the precedence of fields, and set the upcoming fields (or columns) only if the previous ones had been filled. Forms created with Kentico 12 MVC Form Builder could be placed at various places on a given page, offering flexibility and visibility for screen resolution in a well-defined and compact manner.