How GDPR and Compliance Norms Stabilize Kentico 12?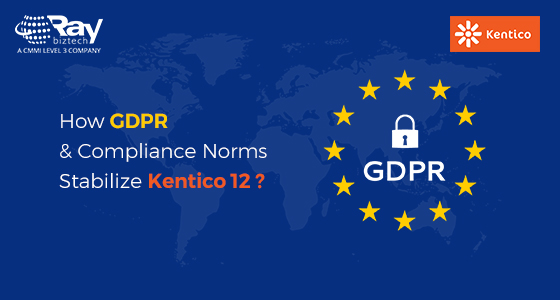 The Kentico 12 offers more scalability across the board to execute marketing campaigns and track customer journey, with provision for creating and offering unique customer experiences that are built around swift customizations, dynamic web parts, and open API mechanism.
Let us have a broad look at the major intricacies and aspects of the security guidelines and the mechanism used to incorporate the same into a well-built Kentico 12 application:
GDPR Norms
The GDPR is a framework for compliance regulations that govern data protection in web content management (WCM), E-commerce, and online marketing, and the Kentico 12 has been loaded with provisions to comply with the aforesaid regulations. Most of the digital platforms are being governed by compliance regulations with the GDPR (General Data Protection Regulations). Kentico developers are expected to fulfil most of the security guidelines while developing the code. Ultimately, a well-secure application can render the degree of security guaranteed by the law.
With the new capabilities, Kentico 12 offers an integrated set of CMS and GDPR capabilities that are focused at businesses running on the Microsoft Azure platform. Kentico end-users driven by the Microsoft Azure platform will now be at the cutting edge with a sound environment built around data protection regulations. The GDPR regulations were passed by the European Parliament in 2018, and involve organizations that collect or use data within the European Union (EU) or collect information pertaining to individuals of those countries.
The newest security regulations are aimed at safeguarding user data and removing discrepancies concerning storage and retrieval of data across customer touch-points. This will go a long way in streamlining retrieval and storage of personal information, and improve reliability and credibility of Kentico CMS and its role as a robust campaign management tool against its rivals, thereby guaranteeing business integrity and ease of operation.
Website Consent
Not all the users or potential buyers might be secure with sharing information online. Kentico 12 follows specific procedures to collect the consent of users visiting the website for the first time, or when a user is submitting a form or furnishing credentials or debit/credit card information. A dedicated web part defined as 'Cookie law and tracking consent' is added to the application to receive the consent of users before collecting data.
Online Forms
Online forms in Kentico 12 are also equipped with the right order of execution and flow for collecting user content. This can even be incorporated by using an item such as a checkbox (that is displayed along with a brief agreement text). When a user selects the checkbox, the system creates a consent agreement that stays valid for the contact for every instance of form submission to the website. Marketers working with Kentico 12 can now incorporate a similar consent for the subscription to their newsletter by utilizing the 'newsletter subscriber' class and adding the consent agreement control as recommended.
The adoption of digital transformation has prompted end-users, developers, and marketers to look for security bundled with an upright functionality. The new Kentico 12 release ensures all the components of Kentico 12 are hosted in a well-managed and secure environment, without any adverse impact on administration and operational overheads.