How Does Kentico 12 MVC Builder Power Your Campaigns?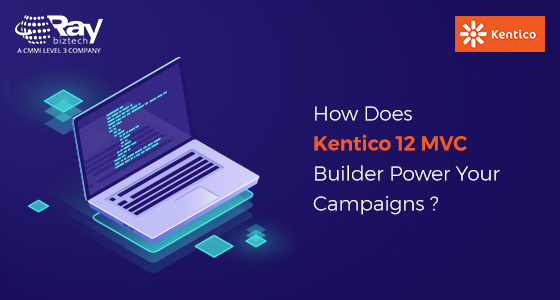 Kentico 12 is emerging as the backbone of future digital projects with its efficacy, freedom for effectiveness, and immense scope for marketers as well as developers. Marketers can easily tweak content and page elements without having to rely solely on developers for incessant changes to the content.

Below are the major talking points of Kentico 12 that make it a preferred campaign management platform that is coded around the MVC Builder:
Creative Outlook
An artistic mind not only finds a solution but materializes it in a creative fashion. The most recent Kentico 12 release offers an MVC interface with desired flexibility to the users as well as marketers to play with their preferences, though with certain constraints which define the sense of responsibility. For instance, developers can control the HTML output and the overall website performance by tweaking the code. On the other end, marketers can enhance the look and feel of banners by virtue of drag-and-drop; without having to bother about the lines of code.
Targeted Approach
Developers do not necessarily have to suspend their high-priority coding assignment to cater to the need of adjusting, say, a single piece of grid or layout for a marketer. With a versatile MVC Page Builder, most of the creativity is left to the marketer for superficial site adjustments and minute changes that are associated with the look and feel. This will free up more resources and time from a strategic perspective, leading to a more refined throughput by developers and technical consultants.
Data-Driven
The MVC Builder interface offers provision for smart online forms that allow collection, storage, and processing of visitor data in a streamlined manner. With the right UI components and incorporation of 'smart' form fields set in the desired order of precedence, the new Kentico version offers a truly state-of-art marketer-oriented CMS that helps in collating information of the visitors to your website. This will help businesses in tailoring their products and customizing their offerings by gauging market trends and individual choices.
Advanced Controls
As widgets and forms play an important role, the MVC Builder allows increased collaboration among marketers and developers to finalize where and how to place specific components into the finalized layout. The Builder also facilitates what level of creativity a marketer wants to inject into the purposefully built application for running targeted marketing campaigns. The zeroes and ones of the 'Digital Universe' can be translated by virtue of the Kentico 12 platform into all the more creative and effective tools for personalized and interactive marketing communication.
Content Personalization
It is crucial to approach the target audience with the right message at the ideal time. The MVC interface allows marketers to tweak their campaigns with just a few clicks, in order to communicate and inform product offers, discount schemes, as well as seasonal incentives. Marketers, as well as customer relationship personnel across various touch-points, will also be able to set the time and date of the month for their campaigns and follow-ups. This degree of intuitive interaction along with content personalization adds a vital touch to improve sales prospects and delivers a superior level of branding experience.

Kentico 12 is equipped by the MVC Builder that indeed offers a great strength for developers and marketers alike, which infuses a sense of freedom bundled with a degree of intellectual responsibility.