Blockchain - Changing the landscape of Mobile App Development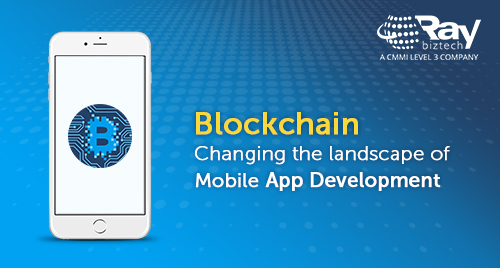 The first thing that comes to our mind when we here Blockchain is crypto currency. However, with frequent developments in the technology, Blockchain has touched various industries like Healthcare, Real Estate, and Education etc. The Blockchain technology is a type of distributed database that contains a number of blocks. These blocks enclose a timestamp and cryptographic link that is linked with the earlier block. Moreover, it also comprises a database that is visible to all but can't be updated by any specific user. The Blockchain technology does not require the support of intermediaries or third party to conduct the transactions. One of the essential features of the Blockchain is that it is based on peer-to-peer payment architecture rather than server-based architecture.

Researchers say that there is an expected $6 trillion increase in the mobile app development economy by 2021 as new apps are being developed every day. Blockchain, with its decentralized, distributed, and secure ledger feature, has the potential to change the way, the mobile app development economy works and will create seamless and appealing user experience. If applied correctly, Blockchain can tackle major mobile app development issues like advertising, in-app purchases, and app approvals etc. Blockchain not only protects user ambiguity during a transaction but also secures the contents of the transaction itself.
1. In-App Purchases
Today almost everyone owns a smart phone globally but very few make use of in-app purchases, reason the payment process is too lengthy and subject to fraud or loss of money, gateway fees, card usage fees, app store fees and lastly bank transfer f fees. With all this long process, customers least use the in-app purchases in an App this means that, the developer receives mere 70% of the total amount paid for the app. By using this decentralized model of the Blockchain, app coins will be used to pay at the app store, wherein the developer will receive 85% share. With the help of this technology, users can make quick in-app purchases, as app coins will be used as a payment method, which reduces the need for all the lengthy credit card processes. Users can earn these App coins through the reward system, added by developers and manufacturers for purchases the app and for continuous usage of it.
2. Improves Advertising
Advertising in Apps is another area that will be completely changed under a Blockchain technology. At present, it is compulsory for developers to invest in cost-per-installment (CPI) advertising campaigns in order to reach the largest chunk of potential audience. However, this advertising method involves a number of intermediaries who all get share of the proceeds from sales, reducing the amount received back by a developer. The cost-per-installment approach will now be replaced by a cost-per-attention (CPA) strategy through Blockchain, which rewards users with app coins for the time they spend while using the app. All the intermediaries are removed, and users are rewarded with app coins, which can be used later to make in-app purchases efficiently.
3. Streamlining App approval process
Google App and Apple App are the ruling app stores decide which apps can be published in the store and which do not, based on the non-transparent quality and distribution procedures. The approval process although is subjective, secret, and cumbersome, is little confusing for new app developers. With the Blockchain technology, apps would be made universal and will be approved through a transparent developer reputation system. This developer reputation system will be directly connected to the financial transactions on the public ledger and will be accessible for investigation all the time. Apart from this, various methods will be employed to identity verification and users will be allowed to create rankings for the mobile app developers and the apps they develop. This entire process will help users to download apps based on the rankings, which will ultimately build a base of trusted app users, improve security, and increase app revenue.

Along with the above key issues, Blockchain will also improve infrastructure protection as app developers will be able to collect DNS entries on a decentralized secured platform and will have complete control over domain records that cannot be altered without their consent. With the help of Blockchain technology, the app developer will be able to validate both devices and users without asking for a specific password. The network decentralization feature in Blockchain will help create consent among the involved parties for the verification of Blockchain based SSL certificates. This will inturn ease the transaction process and enhance trust between the two involved parties.

The Blockchain technology is in the developmental stage and there is a long way to go. It will help app developers on a large extent in building best apps, trusted users and generating more revenue.
About Raybiztech
Raybiztech is a leading Global Information Technology (IT) Services and Solutions, a CMMI Level 3, ISO 27001:2013 Certified Company. We are a Member of NASSCOM, HYSEA, NJTC, and AIIA. Raybiztech offers comprehensive end-to-end IT Services for Business Application Development, Enterprise Solutions, Enterprise Collaboration Services, Testing and Quality Assurance Services, Cloud Computing and IT Infrastructure Management to organizations in the Banking & Finance, Insurance, Healthcare, Manufacturing, Retail, Media & Entertainment, Leisure & Travel, Telecom and Energy & Utilities verticals as well as Independent Software Vendors.