2018 Trends to watch out for in Mobile App Development!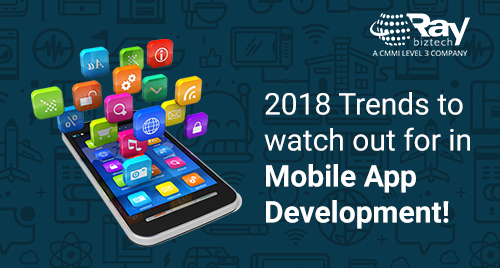 Mobile apps have always made great contributions to many businesses in various ways. It is considered as an additional benefit for a company's marketing and business development efforts. However, it has now become an essential aspect of the business because of its increased usability, meeting customer's demands while building brand awareness and helps in improving sales.

Mobile app development is ever growing. With over 200 billion free mobile apps downloaded in 2017 last year alone, a rise for these downloads is expected to continue for years to come. Long established businesses and start-ups have realized that adopting mobile app strategy in no longer an investment but a requisite to survive in the global market. Today, even the most popular brands in the market are using mobile apps for building brand awareness, increasing sales and for direct marketing.
Internet of Things (IoT) and Wearable Devices
IoT is touching all industries quickly and in no time, we shall see IoT associated to the smallest of things we do. With an expected growth of $157 billion in 2017 to $ 660 billion in 2021 IoT seems be just growing to newer heights. Similarly, market of wearable devices is growing too, with a whopping CAGR of 49.7% in 2017-2023. Majority companies are focusing on smart watches and Fitness apps as they think the key to reach their customers quickly is through wearable devices.
Improved Search function through Accelerated Mobile Pages
Gone are the days when it used to take long waiting time for web pages to load. Thanks to Google, with AMPs, developers can now create beautiful website and apps that load quickly, have lower bouncing rates and work with high performance across multiple mobile devices. AMP is also expected to offer increased visibility to the apps.
Android Instant Apps
Users have an advantage of using these apps, as they do not need to download them. These apps are open to all developers and support the latest version of Android 5.0 (API level 21) through Android 8.0 (API level 26). You just need to search an app in the Play Store and click "Open App." You can also directly move to a specific activity within an app that you did not install. Another benefit of these apps is that they save mobile space, as you do not need to download them and keep them.
Mobile App Security is must
As data breach threats increase, App developers are investing more in cyber security and safeguarding their apps. These security measures will focus more on AI based security systems, ID authentication, Biometric verification systems, mobile app VPN, data encryption etc. Developers can plan to make apps more secure before they even launch them in the market.
Blockchain is much more than you imagined
As digitization is the key to all business, keeping a digitized repository of records will help businesses to have more secured network of business transactions. Blockchain will change how you exchange information with customers or businesses through smart contracts. Will also help in creating faster transaction resolution to save time and money.
Virtual Reality (VR) and Augmented Reality (AR)
Both Virtual Reality (VR) and Augmented Reality (AR) are ruling the entertainment and gaming industry today. These technologies offer exuberant visual experiences to customers. Various industries like healthcare, lifestyle, real estate are planning to adopt this technology to reach their customers in the best manner. Various gadgets like Google Cardboard, Samsung Gear VR, and the most famous Pokémon Go have already been running in the market successfully and have created exceptional customer experiences.
Cloud based Mobile Applications
Several mobile app development companies are adopting cloud-based app development technology, as they plan to achieve streamlined operations, collaboration, and increased productivity. The cloud-based app can obtain data from cloud and thus reduces the load on the internal memory which inturn proves helpful for app developer and business owners. Developers need not develop different versions of the same app for iOS, Android on Windows, which makes their life easier.
The demand for Chatbots
Chatbot when linked with business offers extraordinary customer experiences. With a CAGR of 37%, the Chatbots market is expected to touch $6 billion by 2023. Most popular Chatbots developed last year were PONCHO: A Weather Forecaster, MELODY: The Doctor, ENO: Your Financial Assistant. Businesses today are looking to adopt Chatbots technology to enhance customer interaction, better engagement and improve sales.
Enterprise Apps and BYOD
Enterprise Apps and BYOD - Bring Your Own Device model is known for its ability to run in the apps, however, they are mainly mobile websites that ease development costs while increasing the speed of the overall app development process. Approximately, 72% of businesses have started investing in BYOD for their employees. In fact, within next few years, half of the employer's globally will need the BYOD model.
On-Demand apps
On-demand apps have gained much popularity last year as they have simplified our lives on large extent. Apps like food delivery, Car repair services, taxi services, laundry etc. have largely increased due to high demand. Start-ups today are investing more on building these kinds of apps. As these apps can be accessed from anywhere, they have made it easy for people to check the availability of local services, make quick reservations, and check the weather and the traffic updates, making these apps as high priority for day-to-day activities.

As mobile app development is in its leading phase, it is important for developers to keep a watch on the latest app development trends and the customer requirements that continue to drive this industry.
About Raybiztech
Raybiztech is a leading Global Information Technology (IT) Services and Solutions, a CMMI Level 3, ISO 27001:2013 Certified Company. We are a Member of NASSCOM, HYSEA, NJTC, and AIIA. Raybiztech offers comprehensive end-to-end IT Services for Business Application Development, Enterprise Solutions, Enterprise Collaboration Services, Testing and Quality Assurance Services, Cloud Computing and IT Infrastructure Management to organizations in the Banking & Finance, Insurance, Healthcare, Manufacturing, Retail, Media & Entertainment, Leisure & Travel, Telecom and Energy & Utilities verticals as well as Independent Software Vendors.