What makes Sitefinity a Favorite CMS in the World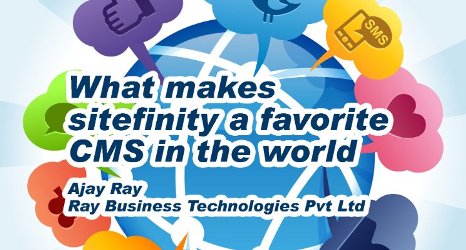 Sitefinity is a trend-setting CMS that is used by a large number of developers and designers across the world. Let's take a look at some of its developer and designer friendly features, which are helpful in designing a website in a cost-effective way.
Some of the developer friendly features of Sitefinity
Sitefinity is created using the Microsoft.Net platform. It is based on standard .Net technologies that include themes .net controls and master pages, which can be used by the developers to create websites without any hassle. Additionally, there are a large number of Telerik tools available that are leveraged in the development process.
Integration of visual studio with Razor and MVC support
Sitefinity integrates with visual studio with a plug-in named Sitefinity Thunder. Thunder is a value added tool of visual studio using which themes, modules and widgets can be installed and updated from within the visual studio. Sitefinity is a unique CMS that supports MVX and it is also helpful in between MVC and web forms in their presence.
In built content types
Sitefinity has a large array of in built content types, which include lists, blogs, news, videos, images and much more. This facilitates the developers to leverage these standard content types to build websites instantly. In addition to this, customization of the standard content types can be done as well.
Module builder
Sitefinity offers flexibility for defining dynamic modules using Module Builder. This ultimately enables the developers to accomplish the desired customization they require, depending upon the requirements. For instance, they can create a module to store press releases.
Flexible API
Sitefinity has a high-tech and completely exposed API through which all the parts of Sitefinity can be managed with minimum effort. It can be leveraged easily with intellisense support in Visual studio. Furthermore, Sitefinity facilitates integration of website with external applications through restful WCF services.
Fully equipped resources
Sitefinity provides full-fledged training facilities for the developers with valuable blogs, documentations and video tutorials.
Some of the designer friendly features of Sitefinity include
In built templates
Sitefinity has a range of standard templates, which can be leveraged to design widgets and pages of websites. Besides this, it also provides a foundation to create new templates using their creativity. Template builder with its provision to import and export makes it easy to share the developed templates, which enables to mold the designs very well.
Mobile affable
Sitefinity has responsive design capability, which enables to design mobile websites and mobile apps and provide optimized mobile experience for a large number of mobile devices. This optimization could be viewed leveraging its own in-built emulator that simulates website's behavior on different devices.
Design layouts instantly
Website page templates can be designed using Sitefinity's standard layouts. In addition to this, Sitefinity optimizes the layout structure through adaptive rule-sets. All that the designers have to do is simply make use of them for developing custom layouts quickly. Besides this, it facilitates full control of the HTML rendered on a page.
Responsive design
With Sitefinity's responsive design feature, a number of websites can be designed that adapt all the devices. This is done by defining different transformations, which automatically fit the visitor's screen leveraging the responsive layouts and rule sets with customization capacity.

Drag and Drop layout facility
Sitefinity provides drag and drop layout facility using which layouts can be positioned at any page, which will ultimately speed up the website design process. These are DIV based layouts, therefore, Media Queries and custom CSS styles can be applied in a simple and hassle free way to fine tune the layouts and fit them on any web page.
Tempting themes for website design
A Sitefinity theme makes the website designing process a hassle free task for the designers. It comprises of conventional CSS, which facilitates full control over website styling. As a result, it provides the flexibleness to enhance the design with new themes and facilitates customization of existing themes as well.

These are some of the primary reasons why Sitefinity is useful for designers and developers. So, don't wait anymore and start creating, trend-setting websites with Sitefinity in a convenient, easy and cost effective manner.

#Sitefinity #Raybiztech

Raybiztech is a leading Progress Sitefinity partner in India.

Source: www.linkedin.com/pulse/what-makes-sitefinity-favorite-cms-world-ajay-ray