Sitefinity CMS Integrations can Multiply your Organization's Productivity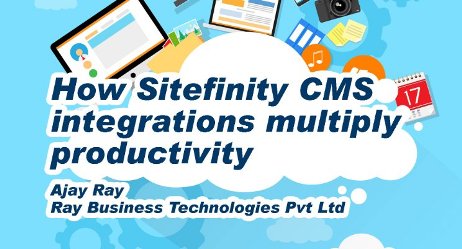 With speedy technological advancements and swiftly amending market trends, online businesses across the world are becoming very competitive day by day. For this, we need an optimal web content management system that can connect and integrate with other analytical and business applications and systems. Sitefinity is a prize-winning Web Content Management System that can be integrated with other systems for supporting targeted business approach and personalizing customer experience.

This article is written to show how you can attain great results and multiply productivity by integrating Sitefinity Content Management System with other business systems.

Take a look at some of the Sitefinity CMS integrations that enhanced productivity
Sitefinity CMS integration with PayPal Payments
PayPal is the fastest and the safest way to send and receive money and make online payment. Besides this, it also facilitates the business people to set up a merchant account.

Sitefinity CMS platform was integrated with PayPal Payments to accommodate the business holiday shopping season by offering an added layer of security.
Sitefinity CMS integration with Sunway Property Website
Sunway Property is a Master Community Developer with a wide-ranging portfolio. The website needed high level of functionality and usability.

The website was completely revamped leveraging the Sitefinity CMS platform with an advanced search functionality enabling the visitors to find their preferred property along with diverse parameters set in place.
Sitefinity CMS integration with Microsoft Dynamic CRM
Microsoft Dynamic CRM is a high-tech customer relationship management software that empowers and energizes customer engagement with real-time information and amalgamation.

Microsoft dynamic CRM leveraged Sitefinity's scheduled tasks, dynamic modules and custom rest services. In addition to this, Sitefinity is utilized for displaying and advertising auction items to the public. When the two systems are integrated they provide a single point of entry to all the business data and send it to the potential customers in a manageable and controlled format.
Sitefinity CMS integration with SharePoint
When Sitefinity CMS is integrated with SharePoint assets, you can publish content on any device through the hybrid mobile app or the in-built responsive design engine. Moreover, with Sitefinity's page editor SharePoint content can be presented by interacting with the comprehensible interfaces and dragging and dropping widgets and layouts on a page.
Sitefinity CMS Integration with Lakeland Health
Lakeland provides trustworthy healthcare services in Southwest Michigan serving more than 80% of the region's people. Since the past few years social networks and mobile networks were becoming mainstream. Lakeland wanted to ensure that its website was integrated with these technologies to match the changing habits of customers. However, it needed a more responsive development platform to provide mobile capabilities, integration with third-party systems and custom functionality.

After an extensive research, Lakeland chose Sitefinity CMS and integrated its system with it. Just after a few months, Lakeland got many positive results through Sitefinity's responsive design and the percentage of mobile visitors were increased from 34% to 50 %. Additionally, open API's enabled Lakeland to add many features for the users and their burden to update the content also reduced.
Conclusion
Integration with Sitefinity provides a proficient single point access for customer interactions, business data, online transactions and digital assets. The best and the foremost aspect of Sitefinity is it has flexible data access options and a fully exposed API. Therefore, integrating your existing applications with Sitefinity CMS will enhance productivity and reflect positive results.

#Sitefinity #Raybiztech

Raybiztech is a leading Progress Sitefinity partner in India.

Source: www.linkedin.com/pulse/sitefinity-cms-integrations-can-multiply-your-productivity-ajay-ray