About Sitefinity Workflow (if required create Custom Workflow)
Workflow is a sequence of activities that are required for completing a task. In addition to this, you can create custom work flows by extending the built-in work flow process using the Sitefinity CMS. Leveraging this approach a work flow can be fit according to the organization's requirements.
Workflows are 3 types:
Standard lifecycle management ------- Create and Publish
Approval before publishing ---------- Create and Send for Approval » Publish
2 levels of approval before publishing ---- Create and Send for Approval » Send for Publishing » Publish
By default, you use the standard lifecycle workflow

Steps to create workflow:
Step 1: Dashboard > Administration > Workflow > click on define a workflow the page shows like below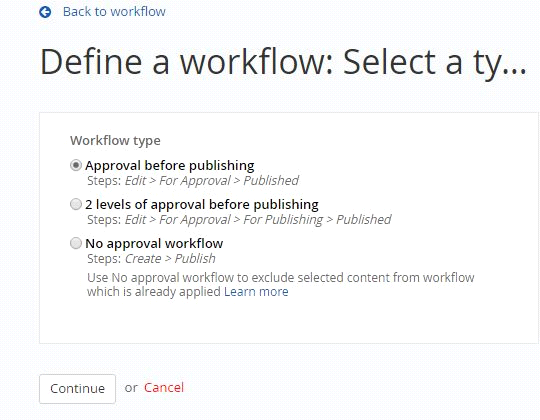 Step 2: Select workflow type
Click on continue
Step 3: Give name for workflow
Select approvers (if required)
Choose site/all sites
Select content
Choose "who can skip the workflow"
Click save workflow.