Mobile Compatible Websites
We trust that you already know it! That more and more people are visiting your website from their Smart Phones and Tablets! With the introduction of iPhone, iPad tablets and recently launched Adam Tablets had already revolutionized the way people access any website today. As a website owner it is very natural for you to wonder about all Smart Phones and Tablets site visitor that what do they see? Does it load? How long does it take? Can they find information easily? What does it look like on an iPhone? A BlackBerry? The Motorola Razr? An iPad? A Samsung Galaxy Tab?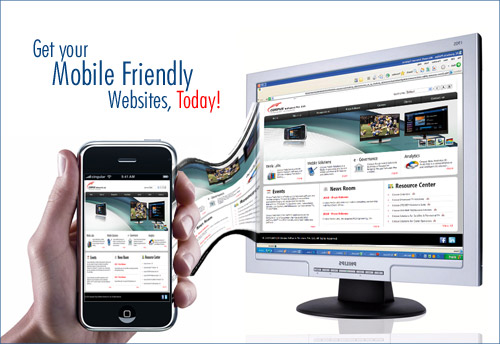 Did you know that:
There are over 4.8 Billion mobile devices worldwide, and growing faster than Human Population
Mobile web growth is happening 4 times as fast as the Internet
One out of every seven minutes of media consumption takes place on mobile
There are over 5,000 different mobile devices that can access the mobile web
And competition got stiffer by now knowing the fact that there are over 10 leading Tablets available in the marketplace.
Contact us now or call us on +1 818 444 3012 or Chat with us online to make your website compatible with all Smartphones and Tablets. Start winning new customers and make all visitors satisfied, today!
Why a Mobile and Tablets Friendly Website?
Compatibility – Your site must be compatible on Smart Phones and Tablets in order to cater to larger audience. Remember, compliance to popular access devices is guarantee for your website. If your website fails on Smart Phones and iPads, it is likely that those users will not access your site back and you lose potential users/customers.
Mobile User Friendly - Mobile users on the go need different information. They should be able to find it quickly, and easily on your website.
Fast to Load - A good compatible website designed for mobile will load in about 6 seconds, while a desktop site can take up to 40 seconds or more to load on a mobile device.
A Great Brand Experience - You control the brand experience - you are not at the mercy of the various mobile browsers to decide how your site will look.
Build it Once - You can build one mobile version of your site that is optimized for all of the 5,000 devices that can access the mobile web. You don't have to choose between the iPhone, BlackBerry or Droid. Make it work for everyone.
Because it is a highly personal communications tool, the mobile web is the most effective way to present relevant information to users on the go.
Why Raybiztech?
Your site will be optimized for more than 5,000 Mobile devices and browsers
Manage the mobile web without involving the tech team or a 3rd party
Generate new revenue through advertising & sponsorships
Raybiztech Smart Phone Compatibility Services are quick-to-market. Your website will be smart phones compatible in no time. Your sites starts working fine on any phone.
Raybiztech also provides various power-packed features designed to make your online website unique and successful
24x7 support is available through our online helpline number at +1 818 444 3102
100% Compliant with W3C's Best Practices
100% Compliant with mobileOK Standards
Contact us now or call us on +1 818 444 3012 or Chat with us online to make your website compatible with all Smartphones and Tablets. Start winning new customers and make all visitors satisfied, today!
Raybiztech Mobile Compatibility Services also help you with:
100% Compliance with Mobile Web Best Practices
Mobile Websites built with Raybiztech are guaranteed to work on just about any mobile phone. This is made possible by 100% strict compliance to the Mobile Web Best Practices and Standards as defined by W3C.org – the Worldwide Web Consortium.
Mobile OK compliance

The World Wide Web Consortium (W3C.org) has prescribed a series of tests designed primarily to assess the basic usability, efficiency and consistency of a mobile web page across mobile phones. W3C calls it the mobileOK Basic Tests 1.0. Websites built using Raybiztech are now 100% in conformance to W3C's mobileOK Basic by passing all the tests. For more details about this feature, please visit http://www.w3.org/TR/mobileOK-basic10-tests/
Site tested on over 20 Smart phones, 3 Tablets and 10 Low end phones
Our Team tests your new compatible website with following Smart phones and Low end phone to ensure complete compatibility of your site with over 5, 000 mobile devices across globe:
Apple iPhone 4.0
Apple iPhone 3.0
Motorola Droid X
Motorola Razr
T-Mobile
Samsung Nexus S
Samsung Star
Samsung Captivate
Nokia N8
Nokia N97
Nokia X3
HTC Evo 4G Droid
HTC Droid
Google Nexus One
BlackBerry Bold 9700
Blackberry Storm 9530
Blackberry Torch
Sony Ericsson Xperia X8
Sony Ericsson Vivaz U5i
LG Vu
Rich Websites for Smart Phones
Websites designed with Raybiztech looks very rich in smart phones like iPhone, Blackberry etc and iPads and at the same time looks graceful even in a low end phone.
Google News
Raybiztech can add a link to the latest news snippets covering diverse topics on your web page.
Google Sitemap
Your new mobile friendly website will also have a Google compatible XML Site Map for your website.
Add to Phone book
Your new mobile friendly website will have links that allows your visitors to click & add your Contact Details to their mobile phone's Phone Book.
Replacing pop-up windows with layers
To help users use the Link Manager and Image Manager without any problem, the current pop-windows for these features have been replaced with pop-up layers which will work fine even if the user has enabled pop-up blockers in his/her Internet browser.
hCard
hCard (short for HTML vCard) is a format for publishing the contact details of people, companies, organizations, and places. hCard allows parsing tools, other websites, or applications to extract the details available in the hCard and display them using some other website or mapping tool. hCard also allows easier search indexing, and for automatic loading into an address book program, like Microsoft Outlook for instance.
Add Simple Form Pages
Users can add a simple form page with text fields by customizing the Form title, Form description, Form field names, and the Email address where they would like to receive the form details.
Who Uses Raybiztech Services?
The Raybiztech Mobile Compatibility Solutions fit a broad range of mobile web needs for any organization. With non-technical managers and business owners in mind, we've designed our solution to make it easy to make existing website Smart Phones Compatible or create new Mobile website to mange an effective web presence.
Increasingly, business and high end users are using Smart Phones and Tablets to access websites since most of the time they are on move. Your Smartphone and iPad compatible websites works wonder for you and establish a far superior relation with user community. We have been working with below business verticals already:
Small & Medium Businesses
Banking & Insurance
Capital Markets
Consumer Goods and Services
Education
Financial Services
Industrial Equipment
Infrastructure and contactportation
Life Sciences
Media and Entertainment
Public Safety
Public contactportation
Retail
Revenue
Travel
Utilities
Creative Agencies
News & Media
Publishers
Not-for-Profit Organizations
Professional Bloggers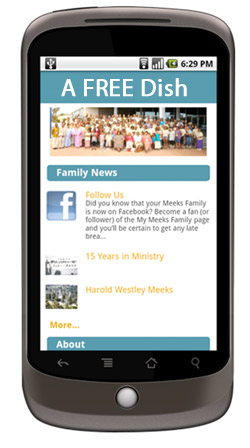 Let us build it for you!
Our mission is to make mobile friendly website easy. We realize that not everyone has the time or resources to build their mobile site.
To help busy business people get started we offer expert mobile compatibility solution and new mobile website development.
Here's the best part: our Smart Phone website compatibility services don't charge you expensive fees for update and maintenance like those other mobile site companies charge. And you will have a great looking, high-performing mobile presence that your customers can access from more than 5,000 mobile devices worldwide.
I used Raybiztech Mobile Compatibility Solutions to make our site mobile friendly and the team was professional, patient and listened to our needs and ideas. The result: a pretty cool mobile website at the fraction of the cost others charge.
- Jess Meher, The Afreedish Family
The scope of our Build Services includes the following three key elements:
Build-out of your initial site according to mobile design best practices
Support for the integration and promotion of your site
Web training for your team so you can easily control and manage ongoing edits and updates without incurring additional fees
Contact us now or call us on +1 818 444 3012 or Chat with us online to make your website compatible with all Smartphones and Tablets. Start winning new customers and make all visitors satisfied, today!
You can also ask for below power-packed Features for your website for a nominal price:
Google Adsense
Raybiztech can also help with placing Google Ads (advertisements) on new mobile friendly website, and sit owners can earn money as visitors click on those Ads. For details, please visit www.google.com/adsense
Search Engine Optimization
Users can now optimize their mobile websites for search engines by adding meta-information like Keywords, Titles and Description to their websites using an easy to use form.
Google Search
Raybiztech can add a Google search box to your web page.
Click-to-Call
Your new mobile friendly website can have a link, where visitors can just click to call your phone number.
Site Search
Users can use Search feature that allows visitors to search for words within the website.
Driving Directions
Enable your visitors to view step-by-step instructions to reach a specific location (your office, home, etc.) from wherever they are.
Hit Counter
Add a counter that automatically counts and displays the number of visitors to your website.
Audio & Video Clip
Add an Audio or Video clip to your mobile website
Photo Gallery/album
Photo Gallery / Album allows the users to display photos which looks completely integrated within their mobile website with the same look & feel
Tell a Friend
Add a link to a page that allows your visitors to recommend your website to their friends.
Send Email Invitations
Users can now invite their contacts, friends & family to check out their newly built mobile website. They can send these invitations through an integrated Email Invitation feature.
Also check out our Enterprise Mobility Solution includes: