Planning a Sitecore Upgrade? How to choose the Best Sitecore Upgrade Partner?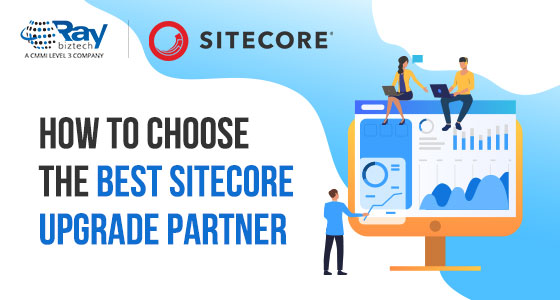 Upgrading is an inevitable component of the software development process. The easiest method to keep your Sitecore implementation in perfect condition is to upgrade it. It's also the ideal method to arm your marketers with the latest features and ensure you're getting the most out of your investment (as the C-team loves to hear).
If you're still using Sitecore 8, 7, or, Heaven forbid, 6, you're missing out on a lot of capabilities that may help your company grow. While your marketers are missing out, your engineers are dealing with the hassles that come with maintaining an older system.
Implementing Sitecore is a difficult task. Upgrading Sitecore can be a lot more difficult, especially if you have a lot of technical debt and have been putting it off for a long time.
The advantages of upgrading to Sitecore 10 are well known. The next step is to locate the proper partner to assist you in doing so in the most cost-effective manner possible, reducing the financial impact and ensuring that your team is up and running as soon as feasible.
The traditional approach to Sitecore Upgrade
In many cases, corporations want to sitecore upgrade in stages. Sitecore 6 was your starting point. Then you went from 6.1 to 6.2, then 6.2 to 6.3, and so on until you got to Sitecore 9, testing every step of the way to make sure there were no surprises.
Regretfully, this rarely aligns to what we observe in reality.
Most Sitecore consumers are ready to bridge significant version gaps. They see other Sitecore websites that are performing well, with plenty of personalization and testing options. Meanwhile, their ageing Sitecore 7 environment is limiting their ability to achieve their business objectives. It slows, is difficult to maintain, and lacks the most up-to-date functionality.
They eventually reach a point where they are fed up, and they decide to upgrade. They quickly locate a Sitecore partner who gladly sells them one.
When you have the proper partner, an incremental Sitecore upgrade looks like this.
It's easy to show that the proper Sitecore upgrade partner prioritises your needs and goals. Here's how it looks in practise:
Step 1: Discovery
Every Sitecore upgrade should begin with an audit — a comprehensive investigation and technical evaluation of your present setup. This process ensures that your Sitecore partner has a thorough grasp of your codebase, hosting environment, integrations, and goals, allowing them to make informed recommendations and deliver price estimates that aren't bloated by unknowns.
Step 2: Planning
Each Sitecore upgrade is one-of-a-kind. The planning process for you will be determined by the state of your present environment, the Sitecore version you're upgrading to, and other variables.
To give you a sense of what to expect, here's a rundown of the questions we ask at Ray Business Technologies when considering a Sitecore upgrade for one of our clients.
What modules does the solution use at the present time?
Is Web Forms for Marketers being used by the client?
What kind of search solution do they use?
What about analytics?
Is there anything else in the new environment that needs to be considered?
Step 3: Upgrade
The following is an example of how that procedure works:
Run some SQL scripts to update database schema.
Run the Sitecore Update Installation Wizard to update the local environment (webroot, configuration, and Sitecore data items) to the target version.
Run some additional SQL scripts post-upgrade to finalize any schema changes.
Run a few post-upgrade tasks.
Test to make sure the new site works.
Step 4: Training
Your Sitecore upgrade may be complete at this point, but your Sitecore partner isn't finished giving everything you need to get the most out of your new upgrade.
Any great Sitecore partner will next devote time to delivering appropriate training on all of the enhanced Sitecore environment's new features and functionalities.
Step 5: Success
Finally, you've updated to Sitecore 9, and you're optimistic about the future of your site.
Deployments go off without a hitch. Content is easily created, edited, and published. Personalization and A/B tests are both functioning properly. Members of your team have the necessary permissions and training to work with Sitecore and enhance your site.
That is an example of a successful Sitecore upgrade.
As previously mentioned, Sitecore Upgrade might be a difficult undertaking. However, there is good news: this does not have to be the case. You have options.
Our process at Ray Business Technologies will get you up and running faster than any other Sitecore partner in the world. And When you take this method, you can make better use of your limited time and resources by avoiding the need for an audit.
Let's talk about what are the best ways to upgrade your sitecore projects?
There is no one-size-fits-all solution for upgrading to the latest version of Sitecore. We can help you analyse the costs and benefits of each option, plan for success, and execute like a pro at Ray Business Technologies.
Ray Business Technologies has a team of skilled Sitecore Senior Developers & technical architects who are regularly in practice of Sitecore consulting, programming, Sitecore Upgrade, migration, integrating, troubleshooting Sitecore related technologies for wide range of industries.

To discuss your case, give us a call. Reach us our Sitecore experts to know more.
About Ray Business Technologies
Ray Business Technologies is a leading global Information Technology (IT) Services and Solutions, a CMMI Level 3, ISO 27001:2013 Certified Company. We are a Member of NASSCOM, HYSEA, NJTC, and AIIA. Ray Business Technologies offers comprehensive end-to-end IT Services for Business Application Development, Enterprise Solutions, Enterprise Collaboration Services, Testing and Quality Assurance Services, Cloud Computing and IT Infrastructure Management to organizations in the Banking & Finance, Insurance, Healthcare, Manufacturing, Retail, Media & Entertainment, Leisure & Travel, Telecom and Energy & Utilities verticals as well as Independent Software Vendors.