Benefits of Sitecore's Content Marketing Platform in Omni-channel Content Stack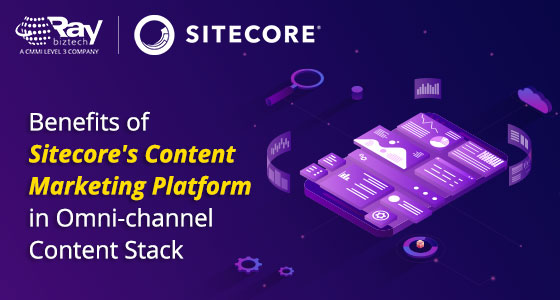 Are you looking for a way to keep track of your content marketing strategy? I suggest you take a look at Sitecore's Content Marketing Platform (CMP).
With Omnichannel delivery and content performance dashboards, Sitecore Content Marketing Platform takes the features of traditional content marketing platforms to the next level. New integrations were added to Sitecore Content Hub 4.0, including Sitecore's Content as a Service (CaaS) offering.
How Sitecore CMP different from other Content Marketing Platforms
One of the primary features of content delivery in Sitecore Content Hub 4.0 is Sitecore's Content Marketing Platform. The content marketing business as a whole has reached a point where content performance must be optimised in order to provide the personalization that customers now expect. The quality, speed, and scalability of content delivery are all aspects of content optimization. Sitecore Content Hub 4.0 provides a Content Marketing Platform that includes significant enhancements to these needs, such as:
Content as a Service (CaaS) allows marketing organisations to plan and automate omnichannel content distribution to their target audiences
Content production scheduling and prioritisation to cover identified shortages across channels
A visual representation of the target demographic, as well as material that is carefully tailored to that definition
Content planning using a publication schedule that you can track using the campaign calendar
Personalization of content on a broad scale across numerous channels, adaptive to all types of devices
By optimising content tags, taxonomy, and metadata, you can offer the appropriate content to the right people
A dashboard with Key Performance Indicators (KPIs) that tracks the performance of every material in the campaign calendar. This KPI measures how well your content performs across all of your channels. It also aids in the identification of the most effective content and the adaptation of similar content to the same performance track
Sitecore Content Hub 4.0 and its features
Sitecore Content Hub has increased exponentially its CMP functionality over time. The addition of new functionality in Sitecore Content Hub 4.0 makes its deployment a little more difficult. Sitecore Content Hub, on the other hand, is simple to customise to meet individual requirements. The following are some of these characteristics:
DAM, PCM, MRM, W2P, and CMP integration
Content as a Service (CaaS) or headless content delivery (CaaS)
GraphQL APIs and a Scalable Delivery Platform
Personalised content delivery
Storage that is optimised and archives infrequently utilised assets
Multi-channel Compatibility
Sitecore's Content Marketing Platform takes into account the challenges of managing content creation, delivery, and analysis across several channels. Sitecore Content Hub has so far performed admirably in this regard. It also embodies the ability to adapt, making it more adaptable to changing preferences.
As a result, it's understandable that Sitecore's Content Marketing Platform is more expensive to purchase than traditional content marketing software. If you require Sitecore CMP, a thorough evaluation of your business operations will inform you whether or not you do. When you use the system to manage your content, however, the new features outlined above will open up options that aren't available in other CMPs.
Integrations with the Sitecore Content Marketing Platform
MRM-CMP Integration
Module Integration
Sitecore Connect for Sitecore CMP
Marketers can utilise Sitecore's powerful features and remarkable capabilities to develop, execute, and deliver unified marketing campaigns across multiple channels, resulting in continuous user engagement.
About Raybiztech
Raybiztech is a leading global Information Technology (IT) Services and Solutions, a CMMI Level 3, ISO 27001:2013 Certified Company. We are a Member of NASSCOM, HYSEA, NJTC, and AIIA. Raybiztech offers comprehensive end-to-end IT Services for Business Application Development, Enterprise Solutions, Enterprise Collaboration Services, Testing and Quality Assurance Services, Cloud Computing and IT Infrastructure Management to organizations in the Banking & Finance, Insurance, Healthcare, Manufacturing, Retail, Media & Entertainment, Leisure & Travel, Telecom and Energy & Utilities verticals as well as Independent Software Vendors.