SharePoint Developers & Professionals Practices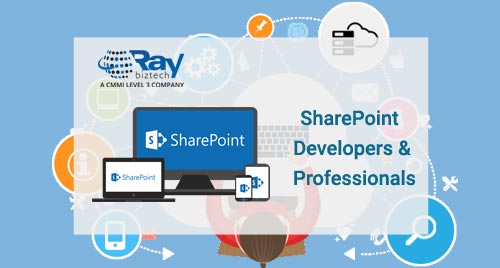 Many of the Fortune 1000 companies, government agencies, large academic institutions, and other enterprises-level establishments take professional advantage of Raybiztech's top-rated Microsoft SharePoint Consultants, and Office365 Professionals owning amazing talent in rendering on premise, private, and public Cloud SharePoint Development Services with perfection. SharePoint Expert Engineers apply graphics designs, XML, HTML, Java Script, VB Script, .NET, SQL Server, IIS, SharePoint Development tool sets, SharePoint Designer, digital concepts, and principles within the SharePoint Development Ecosystem for creating, migration, customizing, managing, and maintaining SharePoint Web-applications or SharePoint portals of utmost standards.
SharePoint Development Patterns & Practices (PnP)
An open source PnP community offer SharePoint Developers with colossal samples, reusable components, libraries, tools, etc. for building and deploying the widely-used SharePoint web platform at the client's SharePoint Ecosystem.
SharePoint Pals
The community named as SharePoint Pals is collected with a full breed of SharePoint Administrators, Consultants, Specialists and Architects who're exhaustively involved in developing first-tier to multi-tier SharePoint architecture solutions of utility.
Microsoft Office SharePoint Server (MOSS)
The highly integrated MOSS software portal is based on the ASP.NET framework, Windows Server, and MS SQL Server Express Database that facilitates file transport, team collaboration, social networking, Web databases, Web publishing and so on. Hosted by Microsoft Windows Server, MOSS is accessible through Microsoft Office or the Web to help you perform better than others.
Raybiztech's SharePoint Developers Work Station
The endless knowledge of the SharePoint Developers and Consultants in Asp.net, C#.net, web parts, Ajax, SharePoint 2007 object model, SharePoint 2010 client object model, Windows Workflow Foundations (WFF), and .NET framework help them successfully discharge SharePoint applications to hundreds of organizations across the USA, Canada, Australia, and India. With a wide degree of creativity, aptitude, technical excellence in SharePoint basics (SharePoint setup, test, configuration, development, deployment, back-up, remote office support, and maintenance) they help you meet project milestones within the specified time.
Various Routine Tasks SharePoint Development Professionals Focus on:
SharePoint-based Application Architecture design & BI dashboards
Build proof of concept (graphical simulation software)
Debug, test, analyze, & evaluate software quality
Product design reviews
Site Configuration
Template Manipulation
Internal system updates
Sites & Portal Customization
Release Application Updates
SharePoint Hosting & Deployment
Windows SharePoint Services (WSS)
SharePoint Portal Management
SharePoint Portal Server (SPS)
SharePoint Administration
Index & Search Configuration
Microsoft Management Console
Document library Management
SharePoint Portal Server Installation
Custom Web Component Development
Qualitative & quantitative Content Upload
Extend SharePoint UI for User Experience
SharePoint Software Development Kit (SDK)
SharePoint End-user Training & Development