Importing SharePoint Solution Packages (WSP) into Visual Studio 2010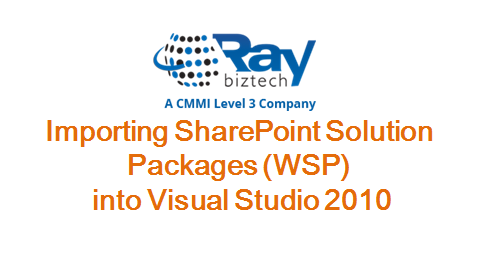 In this interview I sit down with Saaid Khan, a Program Manager on the Visual Studio team developing tools for SharePoint Development Solution. Saaid shows us the WSP Import Wizard in Visual Studio 2010 that allows developers to take SharePoint Solutions packages developed with SharePoint Designer and bring them into Visual Studio 2010 to further customize them there.
For a good overview of SharePoint tools in VS2010, also check out Overview of SharePoint Development in Visual Studio 2010.
For more information on SharePoint Development in Visual Studio 2010 please check out:
SharePoint 2010 Development Resources
SharePoint Development in Visual Studio 2010 Walkthroughs
SharePoint Development in Visual Studio 2010 Samples
SharePoint Team Blog
Office Development in Visual Studio Team Blog
And please give us your feedback in the SharePoint Development Forums! -Courtsey MSN Channel9