Raybiztech's Enhanced SharePoint Consultant Services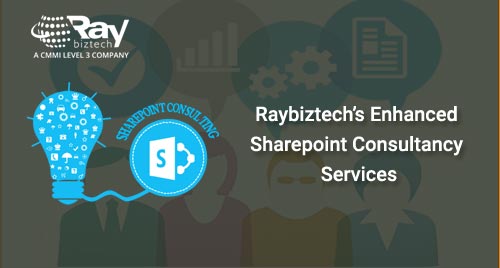 SharePoint Consultant Services plays a characteristic role in bringing your complex SharePoint projects back to life. Our flexible engagement models, mentorship, and expert guidance on Microsoft SharePoint and SharePoint Online helps exceed your expectations for registering record of success. Having gained recognition in providing budged-specific SharePoint Consulting Services to numerous industries, Raybiztech's C-Level SharePoint Developers and Expert Architects are proud to serve the best while deployment the solution at the clients-side environment.
Chain of SharePoint Premium Consulting & Managed Services
As a globally recognized software development organization, Raybiztech has spent years in solving our client's content sprawl and various other challenges that affects business agility, information exchange, and decision making.
SharePoint Consulting Focus on the Following Areas:
SharePoint V 2016 Upgrade
Office 365 Migrations & SharePoint Online Migration
SharePoint Quality Assurance
SharePoint Configuration Planning & Development
SharePoint Packaging & Branding
SharePoint Change Management
SharePoint Information Architecture Upgrades
Rapid Enterprise Search Navigation
SharePoint Support, Health-checks & Assessment
SharePoint Workflow Customizations
BI & Dashboard Solution Development
SharePoint Implementation, Hosting & Deployment
SharePoint Business Process Management
SharePoint Assessment Training & Workshop
SharePoint Integration with ERP
SharePoint Content Management
SharePoint Intranet & Digital Workplace Design
SharePoint Document Management
Restorative Back up Assistance & Governance
Compliance Monitoring & Enforcement
SharePoint Hybrid Architecture Design & Engineering
Custom SharePoint Solutions
Benefits of SharePoint Consulting Services
The collaborative SharePoint platform and its impressive list of features have made this document and content management system world's popular so as to impact the bottom line of many of the small and top-level organizations.
Illustrated Below are Few of the Benefits:
Maximize Operational Productivity
You're no longer forced to work slow using the inefficient software or suffer productivity issues as SharePoint's breed of features as like Business Intelligence, Document Management, Data Sharing, User Interface, Social Search, Managed Metadata, and Site Policies help you perform uninterrupted without receding your productivity graph.
Increased Functionality
The rapid SharePoint Consulting helps you develop, implement custom workflows, streamline processes with optimal level of efficiency, speed up review processes, meet customer objectives, retain security and confidentiality of organizational information.
Competitive Advantage
Advanced SharePoint Consulting enables you to own leveraged SharePoint solutions for winning the competition. The platform's intuitive analytics capabilities integrated with Microsoft's suite of business analytics software, Power BI and more help you take competitive edge.
Reduced Organizational Expenditure
SharePoint's out-of-the-funnel features prevent your funds from spending further. One time hiring of the skilled SharePoint developers help save your money on training existing personnel for using the system, making your IT personnel focus on revenue-generating tasks.
Increase ROI
The bottom line of any business venture is to maximize investment. A SharePoint developer helps your organization realize financial returns. By integrating SharePoint into other enterprise applications such as CRM, finance, or supply chain, Developers let your organization lower development costs and increase output, maximize ROI.
Remote Accessibility
SharePoint provides direct access to information using the web browser from across anywhere in the presence of internet connection.
Documents Organized in One Central Location
Documents are kept and managed at a central location. SharePoint tracks those who updates, allows co-authoring of documents by giving the ability to check-out a document so that one person at a time makes desired changes to the document and checks document back again whenever they're finished with the editing tasks. Apart from maintaining one or more company or department calendars, SharePoint can also keep stock of company photos or picture libraries within the SharePoint site.
Social Collaboration
Communication is essential in an enterprise because it facilitates everyone in the organization to work toward the common goal. SharePoint allows social collaboration between company employees and team members while providing high level of governance.
Secure Environment
SharePoint allows secured and limited access to documents. It offers permission levels that range from read-only access to full read, write, or delete security access.
Streamline Business Processes
SharePoint permits automation of routine processes such as tracking the status of an issue or project in a highly customizable way; this also includes assigning tasks with deadlines or sending reminder emails to project members when deadlines grow near. SharePoint streamline business processes with workflows that decrease the "paper-pushing" policy and facilitate automated electronic document.