Microsoft Dynamics CRM Editions and Licensing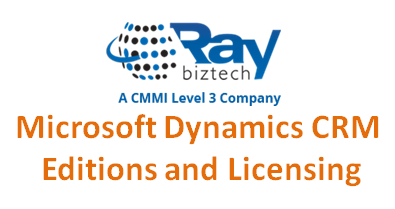 Microsoft Dynamics CRM offers editions that cover implementations for small, to mid-level, to even very large organizations.
Editions:
Microsoft Dynamics CRM Server 2011. There is no user limit for this edition. Additional features include support for multiple organizations, multiple server instances, and separate role-based service installation. Role-based services let you increase performance by installing component services on different computers.
Microsoft Dynamics CRM Workgroup Server 2011. This edition is limited to five, or fewer, users. This version is limited to a single organization and a single computer that is running Microsoft Dynamics CRM Server 2011.
Licensing:
A Microsoft Dynamics CRM deployment operates by using a single product key. Microsoft Dynamics CRM 2011 does not require additional product keys to be added when changes are made, such as adding a client access license (CAL). The single product key contains the Microsoft Dynamics CRM version, server license, and the CALs.
You can view and upgrade a license in Deployment Manager. Deployment Manager is a Microsoft Management Console (MMC) snap-in that system administrators can use to manage organizations, servers, and licenses for deployments of Microsoft Dynamics CRM.