With Microsoft Dynamics 365, Anticipate and Manage Business Needs With More Intelligent Processes and Predictive Guidance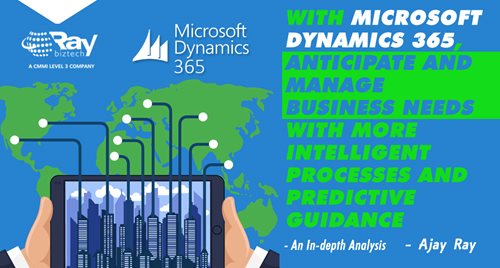 Microsoft business solutions are designed to get you up and running quickly and help you grow efficiently as your needs change. Business around the world are seeing the benefits of helping employees work together more intelligently, automating cumbersome manual tasks and using customer data as a factor in deciding what to offer. Cloud and mobile solutions are helping transform business processes and enable new workflows.
Replacing existing systems may seem daunting, complex and too significant an interruption. With today`s modern applications in the cloud, the rewards far outweigh the risks. Increased efficiency, enterprise-grade security, and increased mobility-all without up-front capital expenses and with less dependency on IT infrastructure-make it easier for businesses of all sizes to use technology as a competitive advantage.
When key parts of your business are connected, your people can do more and your business will grow. Microsoft Dynamics 365 Development can help connect the pieces of your business and reveal insights about your customers, operational processes and your best path for growth.
Microsoft Dynamics 365 provides you with a new cloud-based business solution that combines the classic ERP and CRM functions with modern Business Intelligence functionalities, Office 365 integration and optional applications for specific business and industry requirements.

Build personalized experiences across all customer touchpoints
Empower your employees with a system that enables them to work more efficiently
Anticipate and manage business needs with more intelligent processes
Grow and evolve every part of your business to better meet the changing needs of your customers
Give your business development team a unified sales experience with professional services automation. Collaborate on both product-based and project-based opportunities using social insights. Make every customer conversation relevant and productive using a client-centric approach to finalize project scope and statements of work.
Run your entire business from end to end with intelligent applications that seamlessly work together in the cloud-unifying the capabilities of CRM business software and ERP systems. Digitally transform your processes with Microsoft Dynamics 365 to:
Engage Customers with natural tailored experiences from purchases to support;
Transform Products with an extensible platform and integrated apps that use data as a strategic asset to differentiate your offering;
Optimize Operations with intelligent processes and predictive guidance that accelerate the speed of business.
Provide deep integration between Dynamics 365 and Office 365 that connects business processes and personal productivity using familiar tools Outlook, Word, and Excel.
Source:
https://www.linkedin.com/pulse/microsoft-dynamics-365-anticipate-manage-business-needs-ajay-ray/