How to overcome Dynamics 365 F&O Implementation Challenges?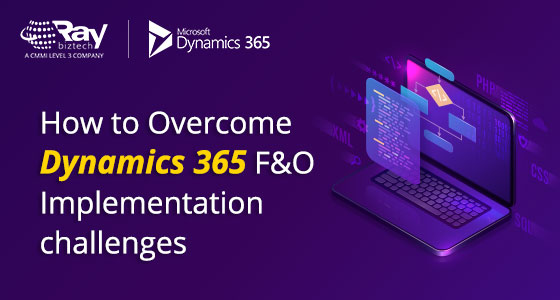 Dynamics 365 Finance and Operations is an ERP leader that can help you build a fully integrated configuration that integrates all business processes and allows them to operate together efficiently.
ERP Implementation Challenges – Dynamics 365 F&O Implementation ERP systems have become the backbone of organizations of all sizes and types of businesses. Long-term success and growth with an ERP, on the other hand, are determined by how well the system integrates with your overall business operations. Dynamics 365 F&O is an ERP leader that can help you develop a completely integrated configuration that integrates all company activities so they can run smoothly, as well as a central database that connects diverse departments to a single source of information with easy access.
Implementation Challenges for Dynamics 365 Finance and Operations
Project Management
Convincing users and functional groups to change their practices in order to use the new ERP solution is one of the most difficult ERP implementation challenges. Strong project management skills are required to drive the change through the phases of planning, design, development, data migration, testing, deployment, support, and post-launch updates.
Data Quality
Another common ERP implementation issue is poor data integration. ERP implementation necessitates a time-consuming data hygiene process because multiple departments interact with the same information in their systems. Before transferring data from the identified sources to the Dynamics 365 Finance and Operations system, ensure data quality by evaluating data, eliminating duplicates, and adding missing information.
Cost Overruns
Many companies underestimate the time and effort required to install a new business system, which leads to higher costs than expected. Cost overruns can appear in a variety of ways. As a result, companies should carefully budget for vendor or third-party costs, data migration, and training costs, as well as other costs that are often overlooked.
Implementation Partner
Finding a suitable ERP, such as Dynamics 365 Finance and Operations, is necessary in this competitive era to achieve better ROI. Your ERP implementation partner should be able to handle your unique business requirements and configure the ERP system to support those while also assisting you in efficiently achieving your goal with Dynamics 365 Finance and Operations.
About Ray Business Technologies
Ray Business Technologies is a leading global Information Technology (IT) Services and Solutions, a CMMI Level 3, ISO 27001:2013 Certified Company. We are a Member of NASSCOM, HYSEA, NJTC, and AIIA. Ray Business Technologies offers comprehensive end-to-end IT Services for Business Application Development, Enterprise Solutions, Enterprise Collaboration Services, Testing and Quality Assurance Services, Cloud Computing and IT Infrastructure Management to organizations in the Banking & Finance, Insurance, Healthcare, Manufacturing, Retail, Media & Entertainment, Leisure & Travel, Telecom and Energy & Utilities verticals as well as Independent Software Vendors.