Healthcare Industry's Adoption of Digital Transformation with Microsoft Dynamics 365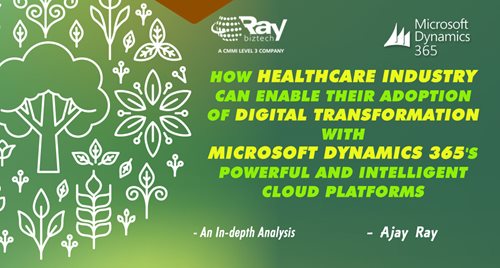 Influence Health`s healthcare customer relationship management (Healthcare CRM) solution gives healthcare marketers and their match systems real-time access to rich consumer data and insights, powering personalized multi-channel marketing campaigns that deliver a compelling ROI. It makes it easy to pinpoint the ideal targets for every campaign, personalize marketing messages to improve response and measure multichannel campaign effectiveness and ROI to inform future decisions.
Delivering high-quality patient care is the number one priority for health care providers, but you have other challenges that must also be addressed, including lowering costs and reducing risk. Built on a robust foundation of Microsoft Dynamics CRM, Microsoft Dynamics 365 Advantage for Healthcare improves access to patient and organizational information to increase patient satisfaction, while reducing costs and streamlining processes.
Microsoft Dynamics 365 Development Advantage for Healthcare facilitates collaboration and preventative care strategies for patients in both the public and private sectors, making it easy to share the information needed to make critical decisions and coordinate across departments and organizations by enabling physicians, nurses, and administrators to work as a single, integrated team.
Improve Patient Care Through Better Coordination
Microsoft Dynamics 365 Advantage for Healthcare helps improve patient care through the coordination of information across the multiple parties involved with intake, treatment and recovery planning processes. Through the centralization of data and automation of activities, all parties involved gaining easier and quicker access to information to improve the patient experience and overall quality of care.
Gain the ability to:
Analyze the performance of routine processes overtime (such as admissions, discharges, transfers, and referrals) to eliminate unnecessary steps and increase patient satisfaction
Develop customized workflows to automate care coordination activities between provider organizations (e.g.physician office, hospital, and home health), which can lead to improved patient outcomes, increased operational efficiency, and reduced costs
Proactively managing chronically ill patients to target them with communications regarding educational offerings and remind them of ways to manage their illness
Improve care coordination and reduce the risk of patient readmission
Reduce costs by consolidating systems and pooling resource to obtain economies of scale, improving utilization of appropriate health care resources and understanding the cost of treatments to drive business planning
Prevent and mitigate medical errors by integrating CRM data with medical history and clinical data
Generate marketing campaigns targeted at specific patient types by combining a knowledge base with scientific analytics and feedback mechanisms
Benefits:
Increases effective patient outreach
Improves efficiencies via automated workflows
Effectively coordinate care between entities
Delivers in-depth capabilities for ongoing case management
Healthcare organizations need to improve clinical, financial and administrative outcomes. With Microsoft Dynamics 365, the world`s top healthcare companies are revolutionizing care and the customer journey with lower costs, greater efficiency, and a superior patient experience.
Track and Report in Real-Time
Demonstrate that your print and digital marketing campaigns are producing results and achieve a higher ROI by connecting campaign activity to leads to appointments and procedure revenue. Track multi-channel campaigns with real-time dashboards and visualizations, or run advanced reports to connect your hospital`s revenue to leads and leads to campaign activity.
Marketing Effectiveness Reporting from Influence Health`s Healthcare CRM provides insights into previous and current campaigns, connecting revenue and campaign activity to individual consumers and providers. Now you can analyze your ongoing campaign responses alongside financial performance with real-time dashboards and reports, so you can confidently recommended doing more of what`s working and less of what`s not.
Source :
https://www.linkedin.com/pulse/how-healthcare-industry-can-enable-adoption-digitial-microsoft-ray/