How Microsoft Dynamics 365 drives the Healthcare Industry?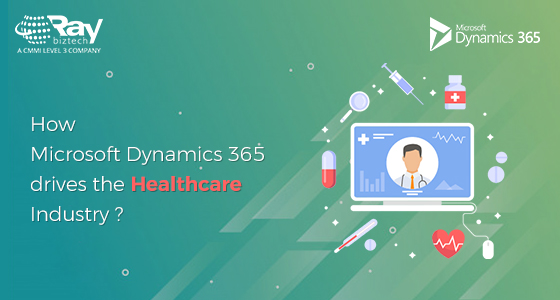 With the transformation of basic healthcare facilities and the introduction of technology, the healthcare industry is increasingly automating its processes to enhance patient experiences. The level of engagement with healthcare providers is at a higher end along with the evolution of 'advance precision' healthcare, thereby leveraging Microsoft Azure, Microsoft Healthcare Bot service, and the Dynamics 365 platform.
A recent survey by Transcend Insights revealed that most of the patients – 93 % of them – would want access to timely information and their medical history. On the other hand, 71 % said they expected healthcare specialists to provide real-time diagnosis and information on decisions pertaining to the methodology and mode of treatment across a secure and mutually-agreed digital channel of communication.
Dynamics 365 in Healthcare
In order to streamline healthcare and patient management, a comprehensive Fast Healthcare Interoperability Resources (FHIR) based data model has been created by using the Dynamics 365 Healthcare Accelerator. The model offers a breakdown of internal systems and database relationships– in addition to a 360-degree view of the patient for a better-personalized service. The model is worked upon with extensive development of use-cases and workflows depicting specific patient care methodologies based on condition and the mode of treatment.
At the HIMSS 2019 conference, Microsoft has explored and shared innovation in healthcare technology, aimed at pursuing some of the best practices for delivering modern patient experiences. It has earmarked strategy to work with health organizations and help them achieve technology transformation and achieve the set level of benchmarks in technology-driven and value added patient care. The event helped Microsoft showcase its intelligent healthcare solutions including AI and the Healthcare Bot Service.
Value-Based Care
As face-to-face experiences mean a lot to patients across geographies, care providers are increasingly concentrating on reaching rural segments with the set-up of a virtual hospital that caters to regions with a scant population. A well-known healthcare provider in Finland leveraged Microsoft cloud solutions to deliver virtual health services across far-reaching zones of the country.
The hospital ran pilot programs and training around AI and machine learning to improve care quality. On the technology front, they transitioned to Azure cloud and formed digital hubs with the help of Dynamics 365, across the medical specialities and groups. This facilitated patients to track and retrieve their information, while the medical staff could extend value-added care and support to more number of patients with precise needs.
At-Home Services
The healthcare sector in Australia has also evolved on the back of new technology and innovative means of offering care. The Dynamics platform has helped hospitals in focusing on care for the elderly, with remote monitoring of patients, and sharing timely information on their health condition.
As more patients opt for continuing treatment at home over a nursing facility, a notable healthcare provider in the country has resolved to attend to about 15,000 clients, in addition to focusing on the competency of healthcare professionals by attracting the right talent. The provider reportedly leveraged Dynamics 365 for talent, to recruit some of the most qualified and dedicated healthcare professionals; promote continued learning; and accelerate overall workforce growth.
Regulated Healthcare with the Power Platform
One of the doctors based at a prominent healthcare provider based out of New York leveraged 'Microsoft Dynamics 365 for Customer Service' and aligned it with key data from healthcare process using the Microsoft Power Platform. This enabled timely assessment of information and retrieval of insights that would go a long way in improving real-time care and enhanced patient experience.
The doctor – a layman when it comes to coding skills – developed a smart never-before app that would fetch patient data from Dynamics 365 environment and store in the Power Apps Common Data Service. The information would then be retrieved based on the nature of queries from the clinic or patient and merged using the Microsoft Dynamics 365 Healthcare Accelerator.
The app implementation helped the healthcare center fulfill a number of objectives such as:
Improved patient care with timely storage and retrieval of information
Streamlined processes and reduced costs by eliminating redundancies
Ensured compliance with regulations and norms on healthcare quality
Empowered workforce with most modern tools to optimize patient care
Confidentiality and integrity of patient data stored securely on the cloud
About Raybiztech
Raybiztech is a leading global Information Technology (IT) Services and Solutions, a CMMI Level 3, ISO 27001:2013 Certified Company. We are a Member of NASSCOM, HYSEA, NJTC, and AIIA. Raybiztech offers comprehensive end-to-end IT Services for Business Application Development, Enterprise Solutions, Enterprise Collaboration Services, Testing and Quality Assurance Services, Cloud Computing and IT Infrastructure Management to organizations in the Banking & Finance, Insurance, Healthcare, Manufacturing, Retail, Media & Entertainment, Leisure & Travel, Telecom and Energy & Utilities verticals as well as Independent Software Vendors.