Kentico CMS: Out-of-the-box Usability and Accessibility Features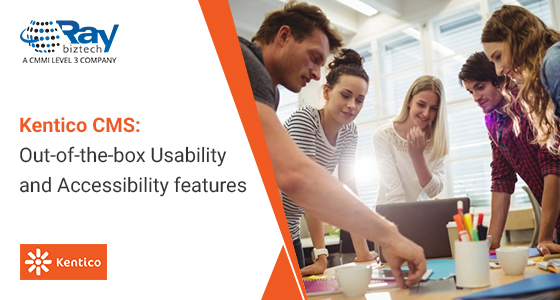 Kentico is an increasingly - used content management platform, which allows enterprises to design and manage websites. The Kentico CMS plays a significant role in promoting user engagement and converting visitors on to a website.

The platform is capable of helping end-users with a minimum technical knowhow or no knowledge of programming. One can just enter the links, images, and content with the help of templates, while the design decision can be left to the customer or client's expectations. Kentico accommodates significant customization needs as well as varying workflow.

Kentico offers provision for a range of web parts that are capable of processing raw content before it is actually displayed on the page. With the help of widgets that are obtained from web parts, various elements are configured to run distinctively on each page by the content editors. This provides more flexibility in terms of real-time performance and enhances the overall workflow of any system built around the Kentico platform.

Website content can be edited with user-friendly and dynamic pages using current specifications and the latest requirements. Some of the cutting-edge privileges offered by a Kentico CMS allow us to:
Configure exclusive web parts dynamically across the web pages
Incorporate widgets that can be configured independently on each page
Use 'Edit' option for multiple authors or editors on assigned pages
Run macros to determine page interactions based on user logins

Let us discuss and explore few other features and traits that make Kentico stand out from the rest.
Kentico Cloud Capabilities
With the need to detach web-page management and content management, Kentico rolled out the Kentico Cloud. As a headless CMS, Kentico can perform as a cross-channel offering, thereby managing content across multiple touch-points. This will be capable of serving users across devices and architectures.
Macros
Kentico 11 has various provisions for more enhanced performance and highly regulated user sessions. Macros can be used to improve personalization and offer the most desired content to display in real-time. For example, a snippet of code can update the year on copyrighted content dynamically at the beginning of a year, by running a query and pulling out the current year from the server.
APIs
With modern integration using key API features, a Kentico site can be integrated with platforms other than .NET, thereby enabling customization and scalability to a great extent. When the new version is released, the platform can be easily upgraded thanks to the well-implemented API update.
Market Readiness
Kentico can fulfill varying structure, navigation, and design needs of your website, and enablethe delivery of a customized portal in a very short time-frame. At the same time, the platform offers an immense level of control over the XHTML code and CSS styles for efficient rendition.
Maintenance and Support
We assign all of the troubleshooting tasks to in-house engineers who are supposed to have a deeper understanding of the product and can understand specific pain points that need to be addressed. Bugs are supposed to be fixed within seven business days in the newly released Kentico version.
About Raybiztech
Raybiztech is a leading Global IT Services and Solutions Company, ISO 27001:2013 Certified Company. We are a Member of NASSCOM, HYSEA, NJTC, and AIIA. Raybiztech offers comprehensive end-to-end IT Services for Business Application Development, Enterprise Solutions and Quality Assurance Services. Cloud Computing and IT Infrastructure Management to organizations in the Banking & Finance, Insurance, Healthcare, Manufacturing, Retail, Media & Entertainment, Leisure & Travel, Telecom and Energy & Utilities verticals as well as Independent Software Vendors.