How does Kentico Varies from Website Owners to Developers?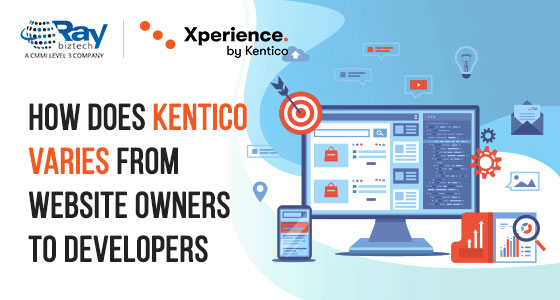 Technically, Kentico CMS is built on a powerful platform: ASP.NET, Microsoft SQL Server. A well-thought-out modular architecture is easily expandable and scalable, and the open-source code of the main WebParts and controls allows you to make any complex changes to the system.
Cost of Kentico CMS licenses
Experts from Raybiztech will help you to get acquainted with the licensing of this CMS and help you to select the required edition. Some projects can be implemented on a free edition. Have any queries about Kentico pricing or any other queries; consult our certified developers for more details.
For site owners
Simple and user-friendly interface
Visual editor
More than 20 built-in modules
Acceptable price
Technical support
For developers
Rapid website development
Open and extensible architecture
Full control over HTML
Customizable design
Built-in localization support
Content Management
With all the variety of technical capabilities of the Kentico CMS system, content management is quite simple using a visual editor. The administration interface allows the operator to perform many actions: manage the object tree, create, delete or modify any pages or files, publish unpublished, archive documents, and much more. The multilingual system can be translated into any language, there are ready-made localization modules.
Safety
It is worth noting separately a flexible security system, in the settings of which you can set access and display rules for certain objects and even for individual interface parts of the CMS itself.
Promotion
Edit any meta-tag (title, keywords, description) manually or set the rules according to which the system will do it automatically.
Performance
Kentico CMS performance tuning is a matter of a few minutes. The developers of the system have used the full power of caching and code optimization mechanisms to make your site work faster than ever.
Rapid Website Development
All that you may need is most likely already in the standard set of modules (news blocks, feedback forms, shopping cart, product catalogs, mailings, blogs, polls, forums, and many others, more than 20 in total!).
About Raybiztech
As the Kentico Xperience 13 Gold Partner, Ray Business Technologies carries a competitive track record in all facets of Kentico development, upgrade, and maintenance. Our team of Xperience professionals can understand the modern requirements of creating and executing campaigns. Raybiztech offers full-cycle projects around Xperience by Kentico with a focus on customer satisfaction and the fulfillment of precise requirements. We deliver all the essential ingredients in order to improve brand consistency and to drive business goals.