Top 10 reasons Why Kentico Upgrade Should be Done for your Business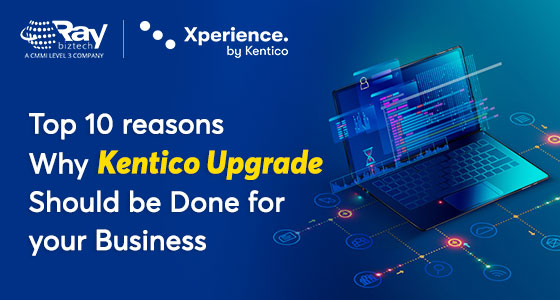 Kentico is a system that manages your web content like a website, online stores, intranets & web 2.0 community sites. Kentico CMS was developed by Kentico Software. In late 2018, Kentico released its most modern and flexible CMS solution which is the Kentico Upgrade called Kentico 12 MVC. This platform yields long-term cost savings and better marketing return on investment for businesses.
The Kentico 12 Upgrade offers standard CMS features including:
Online Marketing: Email Marketing, Contact Management, Marketing Automation, A/B Testing, GDPR and Data Protection, Personas Lead Scoring, Content Personalization.
E-commerce: Payment Gateway Integration, Customizable Checkout Processes.
Intranet and Collaboration: SharePoint CMS Integration.
Online Communities: Blogs, Forums.
Platform: Open API, Cloud support, Web Farm Support, Continuous Integration.
Here's Why You Should Upgrade:
1. Fast & Functional CMS Interface
The new page builder menu enables non-tech savvy users to manage content using configurable widgets. The drag-and-drop interface provides flexible tools that allow you to quickly experiment with different layouts and designs. This can be done without any input from a developer. In the Kentico 12 Upgrade, this new streamlined editing experience gives more freedom to deliver a better & faster customer experience.
2. Simplifies Personalisation
Delivering a truly personalized experience is quick and easy with a Kentico 12 Upgrade. Based on all the data that's gathered by it one can personalize the content displayed by widgets without any assistance from developers. Simplified personalization management allows the creation of new widget variants based on different options such as Persona, Country, Device type, and others.
3. Easy to Build Forms
The Kentico Upgrade has a new drag-and-drop form builder which allows one to design, build, and publish online forms easily without the help of a developer. This method has been effective in collecting more data and keeping forms compact.
4. Faster Website
The Kentico K-12 Upgrade uses MVC technology which helps with website performance optimization. Full control over the HTML output provides SEO benefits, faster page load, and overall site interaction. A faster and better-performing website will also be recognized by search engines pushing your site up the Google results page.
5. More Development Efficiency
The most significant virtue of Kentico 12 is how the platform allows you to develop websites. This is the foundation for cost savings in the long run. By developing the platform for ASP.NET MVC instead, Kentico Upgrade has unlocked better scalability, performance, and sustainability for clients.
6. Good for working as a Team
With the Kentico 12 Upgrade redoing content is a breeze. It allows intuitive page building, adaptable page formats, and gadgets, portioned content personalization, improved A/B testing arrangement and the executives, natural SEO Upgrades.
7. Improved E-commerce System
The better than ever internet business framework on a Kentico Upgrade permits content editors to invest more energy considering and making connecting with shopping encounters. Internet business arrangement and the executives an easy and consistent interaction.
8. Improved SEO Tools
Kentico's improved SEO apparatuses and Google Sitemap joining permit your site to rank well in web search tools. A Kentico Upgrade gives metadata passages on a for every page premise so you can fulfill all your SEO advanced catchphrase necessities.
9. Efficient Integration with other websites
Combination with Google's ReCaptcha v2 adds an additional layer of safety to secure your site against spam on this Kentico Upgrade.
10. Data Security
Security weaknesses are fixed week by week through hotfixes on the new Kentico 12 Upgrade.
Few things to consider
There are some prerequisites for your system upgrade. For instance, there are several server-side configurations. Windows 7 Service Pack 1 (32 or 64bit), Windows 8 or 8.1 (32 or 64bit), Windows 10 (32 or 64bit), Windows Server versions: 2008 R2 Service Pack 1, 2012, 2012 R2, 2016. One of these should be installed before you install and upgrade your Kentico. Upgrading any website on this platform is going to empower the team and save time and money in the long run.
About Raybiztech
As the Kentico Xperience 13 Gold Partner, Ray Business Technologies carries a competitive track record in all facets of Kentico development, upgrade, and maintenance. Our team of Xperience professionals can understand the modern requirements of creating and executing campaigns. Raybiztech offers full-cycle projects around Xperience by Kentico with a focus on customer satisfaction and the fulfillment of precise requirements. We deliver all the essential ingredients in order to improve brand consistency and to drive business goals.