A common man's take on Anna Hazare campaign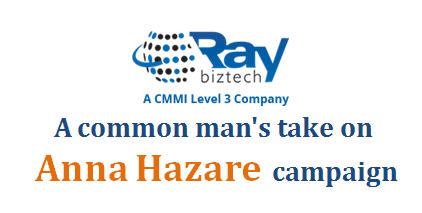 I really wonder, why suddenly there is so much hurrah on Anna Hazare campaign. To me, it is a shame that an old guy like Anna Hazare can take such great initiative, and I am writing the Facebook posts or Linkedin updates! But once that is over, we must go back to our routine lives and:
Feel proud being a friend of the Son of a corrupt politician, and make sure that the Son feels great about his father?
Feel proud being close to some CEOs/Managing Directors, who cheated public by floating wrong companies or showing wrong revenues, making them feel that they are SMART. Making Honest People feeling inferior? Why can't we tell them that they are cheaters?
Feel ourselves proud bribing officials and Politicians to get our work done! Before someone who cannot afford to bribe? I strongly feel that Anna Hazare should not crusade against the politicians but against the people who make this politician?
Who will go for Voting on Sunday- I heard this from 90% of all highly educated people. How many of us have voted to select the right candidates? Did we ever tried to gather people and inspire them to Vote and select right candidates? But same people are happy to blog or conduct an online campaign for Anna. All these online blogger and Facebookers are wasting Office Productive Time. Get your acts right… Anna will not be benefitted from your online signage campaigns.
Curse them who block the road to support Anna Hazare they might get us late for IPL 4?
Make every attempt to save taxes illegally! Making False Tax Receipts, medical bills, travel bills? Going around Secunderabad Travel Agencies and medical shops for those slips? Make sure that rent receipts are inflated to save HRAs? And try to promote someone among us for Politics, to help us in the future?
Why we always need someone like Anna Hazare to go on a fast-unto-death to get our Innerself to be inspired? How many of us will continue support this campaign if something goes wrong with Anna? Two days, three days or a week and, again we should start looking for some other HOT NEWS to get the people voting on our Facebook posts, Linkedin updates?
Praise B R Ambedkar for his social reforms, but ever stop our mothers, grandmas, fathers to say insulting words to lower casts?
India will never change from one Anna, one Medha or one Tilak, No country has ever changed from few individual brilliances. Change yourself, be 1% of Anna Hazare and contribute. Anna Hazare needs that. Sachin Tendulakar has been brilliant over the years but could never win the world cup. But what happened when everyone in the team contributed?