6 Reasons to Use Data Analytics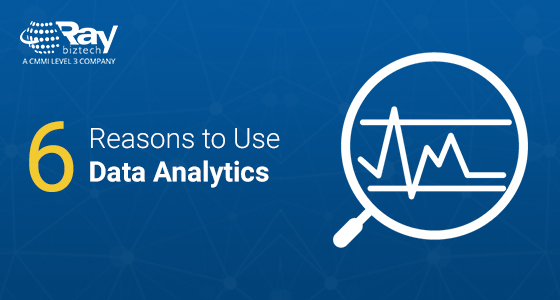 The customer-centric focus has pushed businesses to collate more information prior to initiating the product life-cycle. It is very much vital to make informed decisions and improve communication based on stable 'data binding' with not only the customers but stakeholders as well as business partners. It also helps in streamlining business operations, reducing cost overheads, and improving overall business agility.
Real-world scenarios help data analytics leaders execute plans for driving crucial business outcomes, by applying advanced Data Science concepts. Certain sources of data are classified as 'born digital', such as web analytics and cookies, whereas data found in the form of images, videos or similar formats are categorized as analog data in terms of Data Science.
With constant research in the field of Data Science and development of analytics domain with newer algorithms and platforms, Data Analytics has become a powerful tool to drive corporates and businesses. Organizations traditionally preserved data in the form of very large databases (VLDBs). Modern big data sets usually go up to tens of terabytes with huge amounts of data.
1. Communication
Businesses leverage big data analytics to play a crucial role in integrating and collating information across the digital and physical platforms. A one-on-one conversation with the customers is essential for businesses. With constant communication, the company can roll out the most suitable offer targeted at potential buyers, thereby improving the level of customer engagement.
2. Real-time Decision
Many modern businesses rely on real-time decisions that are powered by advanced in-memory analytics tools such as Hadoop. Such prominent tools help enterprises in reducing the costs of data storage. Decisions made with the support of Big Data can contribute to quick business turnaround and increase the pace of making viable decisions. One can discover the relationship between huge data sets using Google's Map Reduce tool, which is powered by futuristic parallel programming.
3. Single Instance of Truth
Machine learning and modern data mining capabilities are bundled as part of data analytics services which allow businesses to extract, convert, and crunch data to offer a timely method of analysis for the large enterprises, as well as the medium-sized and smaller businesses (SMBs). A well-integrated data analytics platform can automate marketing operations by collating critical data on customer behavior at various touch-points, thereby delivering a single instance of truth.
4. Improved Personalization
Big Data Analytics allows an intimate tracking of customer needs, which ultimately helps in developing new and better products. When customers satisfy their needs or requirements with ease, it helps firms fine-tune their offerings even more based on genuine customer insights. These are powered by high-end algorithms based on the foundation of Data Sciences.
5. Risk Analysis
Analyzing social media feeds and tracking visitor clicks offers firms valuable insights into the potential of introducing new products or upgrading their existing offerings based on changing market dynamics and economic trends. This leads to minimizing risks and avoiding imminent losses from a product failure. Further, contextual analysis using Big Data can enable multiple of a single data set covering many users on a large scale, as well as specific focus groups within. Data Mining helps in drilling down data from large data sets for eliminating hidden cost overruns.
6. Potential for Employment
The advent of digital transformation and automation of industries has generated huge interest in Big Data technologies, and firms are investing in knowledge as well as resources. Big Data analytics, as a career option, offers a huge scope for statisticians, engineers, and database administrators, business consultants, and specialized Big Data engineers. The Big Data learning curve also spans industries and domains, thereby contributing to each of the individual sectors. When a customer logs in for banking services, his credentials are displayed in real-time to the concerned teller or the customer service representative.
About Raybiztech
Raybiztech is a leading Global IT Services and Solutions, a CMMI Level 3, ISO 27001:2013 Certified Company. We are a Member of NASSCOM, HYSEA, NJTC, and AIIA. Raybiztech offers comprehensive end-to-end IT Services for Business Application Development, Enterprise Solutions and Quality Assurance Services. Cloud Computing and IT Infrastructure Management to organizations in the Banking & Finance, Insurance, Healthcare, Manufacturing, Retail, Media & Entertainment, Leisure & Travel, Telecom and Energy & Utilities verticals as well as Independent Software Vendors.