Why Sitecore's DXP is the solution to boosting your ROI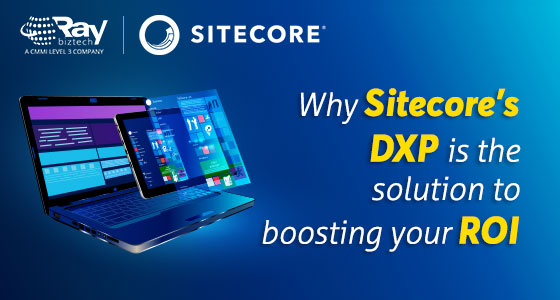 Gartner defines a digital experience platform (DXP) as "an integrated and cohesive piece of technology designed to enable the composition, management, delivery and optimization of contextualized digital experiences across multiexperience customer journeys."
The competitive landscape for most enterprises' growth nowadays includes digital disruption. This simply means that businesses must be on their toes when it comes to adopting the most up-to-date business models and using newer Digital Transformation tools. DXPs (Digital Experience Platforms) have become an important component of delivering a great customer experience.
By speaking and listening to customers, prospects, partners, teams, and other audiences, Digital Experience Platforms provide organisations with an integrated set of tools to establish meaningful relationships.
DXPs can make a significant difference to a company's bottom line in three main areas:
With differentiators for products and services, it can leverage the power of an organization's innovation and ensure pleased customers. This could include everything from omni-channel interaction to the capacity to track, measure, and analyse how to improve consumer engagement. Newer insights can assist a DXP improve its ability, thanks to the growth of the Internet of Things (IoT) and access to more channels of client data.
Depending on the amount of purchasers, it may provide each and every one of them with a unique buying experience. This refers to the ability to interact with a customer at all stages of the process. Using advanced data mining to identify a customer's urgent demands allows a corporation to operate off a well-organized strategy rather than relying on inadequate information.
This personalised experience can be offered across all contact channels in a seamless manner. To accomplish so, you'll need to incorporate integration and work with flexible architecture to keep up with the current DXP developments. Being able to integrate with other goods rather than being locked into a single vendor will allow a company to remain on top of digital trends and stay relevant.
A successful digital experience not only differentiates a company's product or service, but also drives engagement through a core pillar - customer data. The question thus becomes not whether you need to create these digital experiences, but how to do so in the most effective way possible. Let's take a look at how Sitecore is now ruling the roost on DXPs, especially since the release of Sitecore 9.
Integrating Commerce and Content for Better Engagement
Sitecore Experience Platform XP integrates content, commerce, contextual intelligence, and business tools into a unified view, ensuring that the engagement experience remains consistent across channels, preventing consumers from becoming disinterested.
Sitecore Works as an Omni-channel Campaign Manager
Sitecore campaigns offer as a centralised hub for multi-channel marketing. It enables you to manage campaigns that may or may not originate on your website. This implies you may decide how you interact with customers after they arrive. Every encounter with a customer may be recorded.
The buying journey of a consumer will be recorded in order to generate profiles that will allow you to send them targeted information. Each campaign you conduct can be analysed using the unique codes assigned to it. You may also see how many conversions and sales individual campaigns are responsible for. You'll be able to see how you're doing in real time thanks to real-time reports.
Convert more Email Leads
From the initial contact, Sitecore assists in the creation of a profile for a prospective consumer by combining all of his interactions under this contact information. It has an easy-to-use email campaign creator with a drag-and-drop tool for creating campaigns. Sitecore's email integration with the DXP offers a fully automated digital experience across all email channels.
Sitecore Mobile is more than just a responsive website builder
The majority of businesses have a mobile-friendly website. However, this does not inform you where the person is situated or how they have previously connected with your business. Regardless of the device, Sitecore Mobile picks up where the customer left off during his previous encounter. This allows the organisation to send personalised messages to customers based on their geolocation and identification.
With this in mind, Sitecore Experience Platform XP allows a customer to effortlessly transition from the content area of your site to the commerce. You can also include a sales function straight into your company blog or content area. You can sell from any medium using the Sitecore platform. It also allows you to customise your customer's experience by displaying product categories that they are most likely to purchase, as well as cross-selling and upselling.
Upgrading to a modern DXP boosts sales and growth while also improving the customer experience and recall factor. The Sitecore Experience Platform is an excellent digital marketing tool.
Please get in touch with our Sitecore Certified experts to know more about Sitecore DXP.
About Ray Business Technologies
Ray Business Technologies is a leading global Information Technology (IT) Services and Solutions, a CMMI Level 3, ISO 27001:2013 and ISO 9001:2008 Certified Company. We are a Member of NASSCOM, HYSEA, NJTC, and AIIA. Ray Business Technologies offers comprehensive end-to-end IT Services for Business Application Development, Enterprise Solutions, Enterprise Collaboration Services, Testing and Quality Assurance Services, Cloud Computing and IT Infrastructure Management to organizations in the Banking & Finance, Insurance, Healthcare, Manufacturing, Retail, Media & Entertainment, Leisure & Travel, Telecom and Energy & Utilities verticals as well as Independent Software Vendors.