Why should you include containerization in your Sitecore development plan?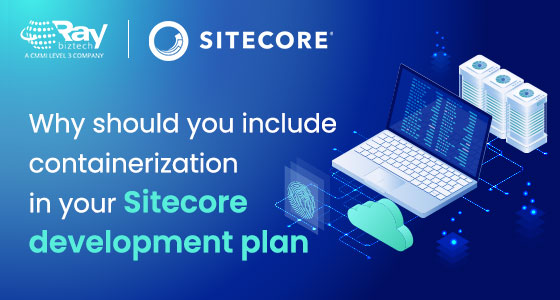 Sitecore 10 Containers has a lot of buzz about it, and how it allows Sitecore development teams to move quickly, deploy, and manage applications. Containers aren't new to the IT world, but they're becoming more prevalent in the delivery of digital client experiences today.
According to Gartner -"By 2022, more than 75% of global organizations will be running containerized applications in production, up from less than 30% today."
Indeed, some of our clients have inquired as to whether a containerization strategy would be a good fit for their development teams. However, it is entirely dependent on how your environment is set up. If your company already uses virtual machines, containerization is a good fit (VMs). Organizations with older infrastructures may not even be able to meet the Docker criteria.
What are the advantages of Sitecore Containers for Development and IT Operations Teams?
1. Onboard New Developers to Sitecore Projects More Effortlessly
This is excellent for multinational corporations with many locations and agencies that manage a large number of client projects. You can get a Docker instance up and running in minutes with Docker Compose.
2. Reduced Overhead
Because the operating system is logically isolated from other programmes, containers are lighter and use fewer system resources than virtual machines.
3. Portability of Components
Containers are free of environmental constraints, and applications may be readily deployed to a variety of operating systems (Windows, Mac OS, Linux, virtual machines, and so on), which is a significant benefit for development and deployment teams.
4. Scalability
Support for Kubernetes allows you to allocate resources to containers and frees up space for new ones.
What does this signify for business and marketing professionals?
Agility in Marketing
Your marketing and campaign teams will be able to launch web pages and campaigns faster thanks to faster developer set up times and smoother deployment routines.
Lowers Total Cost of Ownership
Developers can scale their apps and deploy resources considerably more quickly in the cloud than they can on traditional VMs. Moreover, containers lower infrastructure costs by eliminating the need to launch a virtual machine for each application, allowing more apps to be supported on the same infrastructure.
Cloud agnostic, infrastructure agnostic
Containers give you the freedom to execute your apps anywhere on any cloud, reducing vendor lock-in.
Improved Security
You can safely share resources with various teams or external organisations thanks to application isolation. For example, teams working on Sitecore projects with an outside development team might be provided with certain resources that they only require without revealing information about your network.
Developers can handle challenges of consistency, isolation, and reproducibility with Sitecore's container support. Running a fully supported version of Sitecore is critical since it ensures that you'll receive security updates, Sitecore support for production problems and upgrades, and even patches for newly identified product faults.
Please contact us if you are interested in upgrading to Sitecore 10 or if you have any particular queries about Sitecore Containers.
About Ray Business Technologies
Ray Business Technologies is a leading global Information Technology (IT) Services and Solutions, a CMMI Level 3, ISO 27001:2013 Certified Company. We are a Member of NASSCOM, HYSEA, NJTC, and AIIA. Ray Business Technologies offers comprehensive end-to-end IT Services for Business Application Development, Enterprise Solutions, Enterprise Collaboration Services, Testing and Quality Assurance Services, Cloud Computing and IT Infrastructure Management to organizations in the Banking & Finance, Insurance, Healthcare, Manufacturing, Retail, Media & Entertainment, Leisure & Travel, Telecom and Energy & Utilities verticals as well as Independent Software Vendors.