What's New in Sitecore 10: Highlighted Features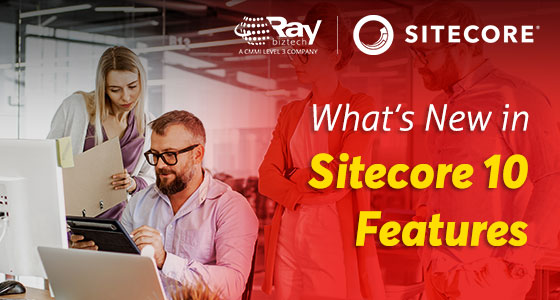 Sitecore 10 Updates
Sitecore 10.0(Sitecore Experience Platform) focuses on product updates and enhancements that provide more development and deployment options, improve usability, and improve overall performance – all with the goal of empowering both Marketing and IT teams to launch and evolve digital customer experiences more easily and quickly.
Support for Docker, Kubernetes, and new Sitecore-provided image repositories have been added, making it easier for delivery teams to transition to a continuous delivery paradigm with infrastructure-as-code deployments and more rapid solution and team onboarding. The advent of the ASP.NET Core SDK and headless rendering host architecture gives developers a new method to construct solutions, allowing them to iterate more quickly.
Highlights in Sitecore 10
Sitecore Containers
With latest Docker and Kubernetes technologies, Sitecore Containers provide faster deployment and more efficient solution and team onboarding.
ASP.NET Core Headless Development
Teams can now build applications faster using the latest .NET technology thanks to a new ASP.NET Core headless development option.
Sitecore CLI and Sitecore for Visual Studio
By combining the best of TDS and Unicorn, Sitecore CLI and Sitecore for Visual Studio provide headless serialization, making it simple for teams to script content updates and transport them between different environments as part of deployment workflows.
Audience Analytics Filters
Audience analytics filters provide greater insights on audience engagement and segmentation, allowing you to personalize your content across all of your platforms more effectively.
Additional HTML Email Templates for EXM
Additional HTML Email Templates for EXM provide you additional alternatives when composing emails, which means faster email generation and delivery to customers' inboxes.
Horizon Editing
Horizon's new editing interface allows marketers to see multilingual and multisite experiences in real time.
Stronger CMP Integration
When importing into XP taxonomy repositories and linking CMP to XP, stronger CMP integration provides more field types and allows for persistent taxonomy relationships.
Salesforce Marketing Cloud (SFMC)
Updates to the Salesforce Marketing Cloud (SFMC) connector bring the ability to send xDB data and trigger Salesforce Marketing Cloud plans in Journey Builder right away.
New Marketing Automation Capabilities
Customers may now be engaged with automatic birthday campaigns thanks to new marketing automation features.
Support for GDPR Compliance Journeys
Support for GDPR compliance journeys, including capabilities that make it easy to enforce and monitor consent alternatives, as well as the anonymization of personal data submitted using Sitecore Forms.
About Raybiztech
Raybiztech is a leading global Information Technology (IT) Services and Solutions, a CMMI Level 3, ISO 27001:2013 Certified Company. We are a Member of NASSCOM, HYSEA, NJTC, and AIIA. Raybiztech offers comprehensive end-to-end IT Services for Business Application Development, Enterprise Solutions, Enterprise Collaboration Services, Testing and Quality Assurance Services, Cloud Computing and IT Infrastructure Management to organizations in the Banking & Finance, Insurance, Healthcare, Manufacturing, Retail, Media & Entertainment, Leisure & Travel, Telecom and Energy & Utilities verticals as well as Independent Software Vendors.