Sitecore 10 enables marketers to be more agile and flexible at scale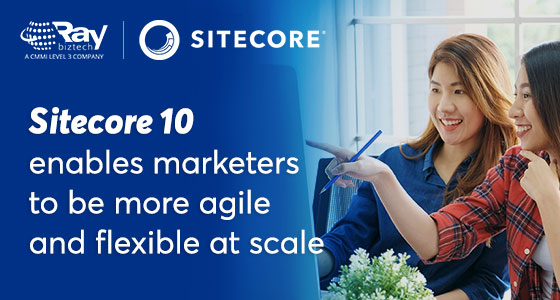 Sitecore 10 was a long-awaited update to the platform. The Sitecore 10 includes a number of innovative features designed to make marketers' and developers' life easier. The Sitecore 10 focuses on speeding up the development process, increasing content editing flexibility, and giving a more personalised client experience.
Organizations are more equipped than ever to fulfil their digital objectives and harness technology to modernise their digital future with the release of Sitecore 10.
Let's take a look at the new Sitecore 10 series capabilities and how they can help you take your business to the next level.
What's new in the Sitecore 10 for Marketers
Marketers can use emerging technology and deliver digital experiences at scale thanks to Sitecore's product investment in marketing agility and flexibility.
With automatic behavioral-based profiling of content based on content tags and taxonomy, rules-based content profiling boosts marketer productivity.
The Sitecore AI - Auto Personalisation standard accelerates time-to-market and time-to-value for personalization by removing the requirement for a minimum amount of site traffic to enable Auto Personalisation (and up to 12 million annual visits). Sitecore AI assists brands that have already began personalization initiatives by evaluating visitor behaviour to establish where they are in their journey, enhance their understanding of them, and determine the best content to optimise their experience.
Segmentation Audience Filtering - Marketers and marketing optimisation analysts can explore a variety of dashboards and reports in Experience Analytics to acquire a rapid grasp of patterns and trends in experience analytics.
The SXA & Horizon Integration brings together the complimentary components of the two solutions so that users can take use of SXA's time-to-market advantage while using Horizon's next-generation UX. Because of the tighter interaction between the two, a brand's ability to edit and adapt experiences to meet the velocity of CX change is considerably increased.
What's new in the Sitecore 10 for Technologists
With the combination of cutting-edge tooling and unprecedented scalability and performance, the possibilities for application development and cloud delivery services are endless.
Experience Edge - Sitecore Experience Edge will be the initial component of Sitecore's new SaaS platform, and it will provide headless content delivery. With an API application architecture, you may connect your new website to a content experience layer.
ASP.NET Core - Headless development with ASP.NET Core allows you to build your application faster using the latest.NET technologies.
A new Next.js SDK - A new Next.js SDK enables a variety of delivery strategies, including static site creation, server-side rendering (SSR), and hybrid techniques. React developers all across the world will be delighted.
Containers - Sitecore Containers now supports more modules, including as Horizon, Azure Blob Storage, and Publishing Service, which streamlines module deployment and reinforces high-quality Docker and Kubernetes experiences.
What's new in the Sitecore 10 for the eCommerce Manager
A new set of capabilities that promises to delight any eCommerce management and help them handle each stage of the supply chain more efficiently, from product cataloguing through order fulfilment and beyond.
Product Content Management (PCM) - With the advent of Sitecore Content Hub accompanying Sitecore Commerce (XC), product marketing photos, videos, specifications, and more can all be controlled in one place alongside digital product merchandising.
Enhancements to Customer Service - Sitecore's xDB (Customer Experience Database) is completely linked with the Order Manager, making it easier for Customer Service to manage order inquiries.
Evolving Business Tools Suite - Product bundling and new capabilities like product giving have been added to the promotion manager.
Searchability - The platform now has advanced search, which indexes a greater range of product data across the merchandising manager.
Reduced Total Cost of Ownership - With the latest container model discussed above, Commerce deployments will dramatically increase speed to market and lower costs.
It's simple to see how Sitecore 10's enhancements will help businesses expand their capabilities and reduce delivery times.
Are you ready to make the transition to Sitecore? If you'd like to learn more about what Switch and Sitecore can do to help you modernise your digital future, schedule a demo with us.
About Ray Business Technologies
Ray Business Technologies is a leading global Information Technology (IT) Services and Solutions, a CMMI Level 3, ISO 27001:2013 Certified Company. We are a Member of NASSCOM, HYSEA, NJTC, and AIIA. Ray Business Technologies offers comprehensive end-to-end IT Services for Business Application Development, Enterprise Solutions, Enterprise Collaboration Services, Testing and Quality Assurance Services, Cloud Computing and IT Infrastructure Management to organizations in the Banking & Finance, Insurance, Healthcare, Manufacturing, Retail, Media & Entertainment, Leisure & Travel, Telecom and Energy & Utilities verticals as well as Independent Software Vendors.