Reasons to upgrade to Sitecore 9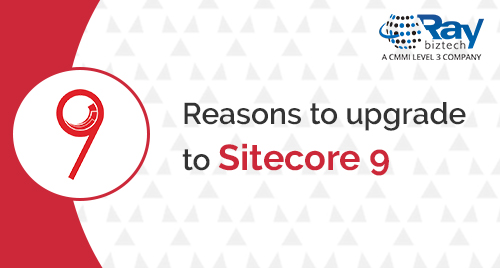 Marketing landscape is evolving continuously, with Digital Marketers focusing on delivering enhanced customer experiences across multiple channels and touches points, has made marketing even more difficult. To ease this process, organizations have started using Sitecore CMS, which helps in managing the entire content of the site. Recently, Sitecore introduced its latest version, Sitecore Experience Platform (XP), Version 9, that promises to combine the entire customer data and interactions from various campaigns and other data sources into a single secured platform. The objective is to offer marketers with a constant, holistic, synchronized view of the customer. Sitecore XP 9 opens new doors for marketers allowing them to make efficient use of hidden data at their fingertips.

Below are the reasons why you should upgrade to Sitecore 9 quickly:
Sitecore Headless
Sitecore with its new version offers content access to external applications that can be easily built with minimum Sitecore experience, enabling you to control your content in multiple locations outside of a conventional web experience.
Sitecore xConnect
Sitecore xConnect can gather and share data from not only website interactions, but from other third party systems, IoT devices, CRM, and any up-coming technologies that your customers interact with. The data composed is further processed to offer insights, creating a 360-degree view of the customer in real-time.
Sitecore Forms
Sitecore Forms, a new feature in version 9 has replaced basic Web Forms for Marketers. The new forms have been redesigned according to the needs of today's marketers. These forms come with a drag and drop UI to create forms and new features to make sure that best quality customer data can be captured and actions can be take accordingly.
Marketing Automation
Sitecore 9 provides re-designed automation tools to create automated campaigns with its easy-to-use drag-and-drop interface. It also consists of a tool that integrates with xConnect to trigger activities based on the goal triggers and a number of other conditional rules. These tools allow you to build customized campaigns that drive appropriate, personalized content to your customers, creating automated follow-up emails at scale.
SQL Server Support
With the new version Sitecore 9, you are no longer restricted to MongoDB to power your xDB database. This feature allows you to set up your choices of MongoDB, Microsoft SQL Server, and Microsoft SQL Azure, so that you can pick platforms that are precise for your organization.
Azure PaaS
Sitecore 9 is now optimized for deployment in Microsoft Azure PaaS. Both XM and XP have full native support for Microsoft Azure PaaS, thus this flawless integration enables Sitecore infrastructure to be easily deployed in as little as 30 minutes through Azure Resource Manager templates or Azure Marketplace.

Upgrading to a newer version is never easy, thanks to Sitecore 9, now you can easily upgrade to the new version with various in-built features. Sitecore 9 will allow you deliver focused, personalized, and scalable customer experiences.
About Raybiztech
Raybiztech is a leading Global Information Technology (IT) Services and Solutions, a CMMI Level 3, ISO 27001:2013 Certified Company. We are a Member of NASSCOM, HYSEA, NJTC, and AIIA. Raybiztech offers comprehensive end-to-end IT Services for Business Application Development, Enterprise Solutions, Enterprise Collaboration Services, Testing and Quality Assurance Services, Cloud Computing and IT Infrastructure Management to organizations in the Banking & Finance, Insurance, Healthcare, Manufacturing, Retail, Media & Entertainment, Leisure & Travel, Telecom and Energy & Utilities verticals as well as Independent Software Vendors.