How does Microsoft Azure Cloud Power Sitecore Platform?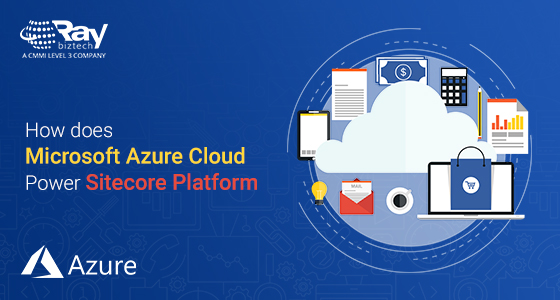 The Microsoft Cloud platform Azure, has boosted the performance of the Sitecore Experience Management platform, since it moved to the cloud in late 2016. With the passage of time, the other components such as the critical Web Experience Manager (XM) and Sitecore Commerce have migrated to Azure PaaS. Lately acquired by a Venture Capital firm EQT, the Sitecore Experience platform has been placed in the Leaders Quadrant based on Gartner's Magic Quadrant survey for seven years in a row.
Sitecore and the Microsoft Azure cloud have collaborated to result in a winning combination, where in the cloud capabilities of the later are powered by the speed and agility of the PaaS (Platform-as-a-Service) development and the underlying deployment framework. Upcoming initiatives include adding Azure centers on a global scale to enable marketers to execute their campaigns in a truly digital mode across the geographies.
Build and Performance
According to the Corporate Vice President handling the Microsoft Azure cloud, the Sitecore architecture was natively built at the onset to perform compatibly with the Microsoft Azure platform, which has swiftly allowed it to power its digital marketing initiatives across the cloud. Customers enjoy control over the nature of implementation and the mechanism to make a choice of the precise Microsoft Azure Cloud deployment. The combination will achieve a competitive edge with a quick marketing turnaround time for clients to target their end-customers, according to the leadership. The Azure platform offers a pay-as-you-go option, in accordance with the decision of marketers to scale up or scale down marketing campaigns.
One of the essential capabilities offered by the Microsoft Azure cloud platform lies in context marketing across each and every intended digital marketing channel. This is accomplished by leveraging the Sitecore XP's Experience Database (xDB) which relies on real-time data of potential buyers, including their geo-location and behavior or response to a call for action.
Flexibility and Scalability
Specific options enable users to choose from Sitecore XM or XP deployments for their end-customers, or to leverage templates from Azure Resource Manager for thorough customization. The options can be selected through a swift point-and-click action, thereby allowing faster turnaround and quick implementation in the requisite time-frame.
Businesses are offered an option to initiate with conventional web and mobile platforms, before moving to digital e-commerce solutions or core digital marketing for customer content delivery and personalization; similarly integrated solutions such as e-mail automation can take a while to get on-board.
The cloud-based Azure experience empowers marketers to run fast-turn projects and campaigns involving core elements such as landing pages, micro-sites, and contact forms.Integration with back-end systems and the ability to meet compliance regulations and security commitments, the Sitecore Cloud is well-poised to connect with Salesforce, Microsoft Dynamics, and Marketo.
About Raybiztech
Ray Business Technologies is a leading global Information Technology (IT) Services and Solutions, a CMMI Level 3, ISO 27001:2013 Certified Company. Raybiztech offers comprehensive end-to-end IT Services for Business Application Development, Enterprise Solutions and Quality Assurance Services. Cloud Computing and IT Infrastructure Management to organizations in the Banking & Finance, Insurance, Healthcare, Manufacturing, Retail, Media & Entertainment, Leisure & Travel, Telecom and Energy & Utilities verticals as well as Independent Software Vendors.