Improving Website conversion rate through Sitecore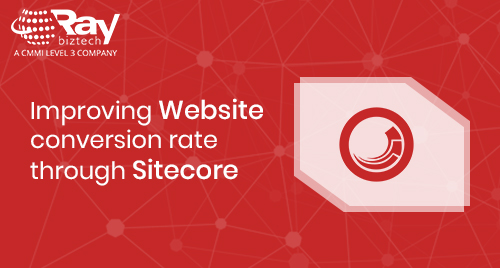 Every enterprise focuses on improving website efficiency in order to boost lead generation and maximize revenue. As consumers, spend more and more time searching and shopping online it becomes imperative to have a website that is quick and easy to use. When a marketer creates a landing page for its products, he often expects two things - One to drive maximum traffic. Second, to convert that traffic into loyal revenue generating customers. The conversion rate is calculated by number of customers visiting your site/ landing page and ultimately completing an action like buying a product, completing a form, request for a product enquiry, download a brochure or sign up for a newsletter, etc. Hence, to increase the website conversion rates a marketer would require a robust, simple, and scalable platform that supports digital marketing and is easy to use.

While making efforts to improving conversion rates of your online site, it is also necessary to understand your customer. As customers do not move in a single straight line, they move in all directions before making any decision to purchase a product. Thus, understanding customer journey would help you design a solution that would inturn increase the site conversion rates.

Sitecore CMS, besides being an excellent web content management tool, is also a dynamic marketing tool that allows marketers to pull out insights from web traffic and multi-channel customer experiences to further appropriately forecast what information to deliver to customers next, in real-time. This technological framework collects, analyzes, and manages, customer intelligence from data collected from customer's behavior, buying patterns, and purchase decisions from multiple digital platforms. Later, it directly offers valuable analytics and insights that help marketers in maximizing the results of their marketing campaigns. The automated analysis of high volumes of experience data enables your website to self-tune itself. Hence, is considered to be the powerful marketing automation tool that helps you to constantly listen to how potential customers are engaging with your brand, so that you can communicate to them in real-time, based on their specific interests.

The Sitecore Experience platform has a multitude of advanced digital marketing features that enables marketers to create persuasive and highly personalized digital journeys. This functionality allows you to optimize your conversion rates. We are sharing few powerful features of Sitecore that would help increase website conversion rates.
Setting up clear, precise Business Goals
Defining business goals are important for your site. Sitecore helps in defining call to actions clearly that help marketers achieve targets. The call to action feature helps you to create a sales funnel of the potential visitors and thus you can easily measure ROI.
Building Customer personas
Your company won't have one common audience pool; you will have different audience segments for different products. Moreover, for these different segments of audiences you will have to create customized campaigns that best suit them. Sitecore offers marketers with the facility to define your organization's multiple audiences by capturing individual customer data that includes interests and behaviors of the customers. Within Sitecore platform, you can create individual profiles and customer personas you interact with. Thus, in future, you shall have an in-depth profile of audiences that would cover areas like content consumed; campaigns interacted with and actions completed. The ability to understand customer interaction will ultimately enhance conversion rate optimization efforts.
Creating Hyper-targeted emails
A marketer can't create a personalized email for every single customer every time as its time consuming and mere an impossible task. Sitecore has a unique marketing automation tool called Engagement Automation that helps the marketer to create hyper-targeted emails according to the customer interests, content viewed by the customer and lead score. This way you can automate the entire email sending process, you can send personalized discount or offer emails to individual customers, you can send emails to cart abandonment customers, and you can reach out to potential customers by releasing campaigns accordingly.
One-on-One Customer interaction
When looking out higher site conversion rates, it is important to understand; are you reaching the right customer and is your customer able to get what he/she is looking for? Thus, your site must be able to create personalized experiences through one-on-one interactions. Using the Sitecore Experience Platform, you can easily customize your site for each individual customer. You can segregate the entire customer content based on location, product interests, device used, call to action, and their prior interactions. Personalization creates more engagement that inturn increases the conversion rates.
Identifying Customer journey
As described earlier, customers never travels in a straight line to make purchases, they will search multiple times, go forward, backward, return after weeks to check again and later finally make the purchase. Once you understand the customer journey, you can easily design a campaign accordingly. Sitecore includes a tool called 'Path Analyser' that helps marketers to identify the customer journeys that show positive or negative value created by them. Customer may land on your site through various pages or elements, Path Analyser will help you to understand the combinations of pages that lead to positive action, and which can be further optimized to increase conversion rates.
A consistent cross-channel approach
With the help of Sitecore, a marketer can easily perform cross-channel marketing as it drives higher conversion rates. From the admin dashboard of a Sitecore website, you can easily publish content in mobile apps, social media, external micro sites, and in email marketing.
Testing
Sitecore consist of a tool, Experience Optimisation that allows a marketer to run A/B tests on multiple versions of a page as well as diverse elements within a page e.g. testing different ad campaigns. The capability to test variations of pages is necessary to improve conversion rates. If a marketer can't test something, then he may never know by how higher the conversion rates are.
About Raybiztech
Raybiztech is a leading global Information Technology (IT) Services and Solutions, a CMMI Level 3, ISO 27001:2013 Certified Company. We are a Member of NASSCOM, HYSEA, NJTC, and AIIA. Raybiztech offers comprehensive end-to-end IT Services for Business Application Development, Enterprise Solutions, Enterprise Collaboration Services, Testing and Quality Assurance Services, Cloud Computing and IT Infrastructure Management to organizations in the Banking & Finance, Insurance, Healthcare, Manufacturing, Retail, Media & Entertainment, Leisure & Travel, Telecom and Energy & Utilities verticals as well as Independent Software Vendors.